Are you struggling to find the sofa of your dreams? Let's build your dream together with a customized Bassett BenchMade sofa. We've partnered with Bassett Furniture to bring our customers great quality furniture at an affordable price. Prepare for your trip to our Jacksonville furniture showroom by considering these 5 ways to customize your Bassett sofa below.
Why We Partner With Bassett Furniture
Woodchuck's carries over 100 vendors, carefully sought out for their quality furniture production. As with any store, we are only as good as the product we carry. That's why we've chosen to partner with Bassett Furniture. We believe in this brand, simply because they have remained true to their company principles: that great quality, stylish furniture does not need to be expensive and should be available to everyone.
Bassett Furniture believes that furniture is a true reflection of the customer. They operate with integrity to ensure every customer's needs are met. At Woodchuck's, we work hard to find the piece that will exceed your expectations and live up to your standard. Our family, too, always promotes the values of honesty, authenticity, and genuine care for all of our customers, so you can finally find the furniture you have been dreaming of.
In 1902, Bassett made a commitment to crafting well-constructed and comfortable furniture. Their BenchMade philosophy draws on over 100 years of craftsmanship, interpreted through a modern lens. It is for the person who appreciates the details, who prizes quality and authenticity and who doesn't settle for an average life.
The company offers made-to-order sofas, constructed with artisanal craftsmanship and exceptional materials. When you purchase a Bassett Benchmade sofa, you can expect layered high-density foam, interlocking unibody design, thicker laminated hardwood, drop-in coil or sinuous wire foundation, better-engineered joints and more. To keep you cozy, they use channeled polyester fill back cushions, encased pillow cores, and fully upholstered cushions and arms.
With the help of our talented team, you can customize your Bassett sofa today. Keep these tips in mind when you visit Woodchuck's Jacksonville furniture showroom.
Size and Style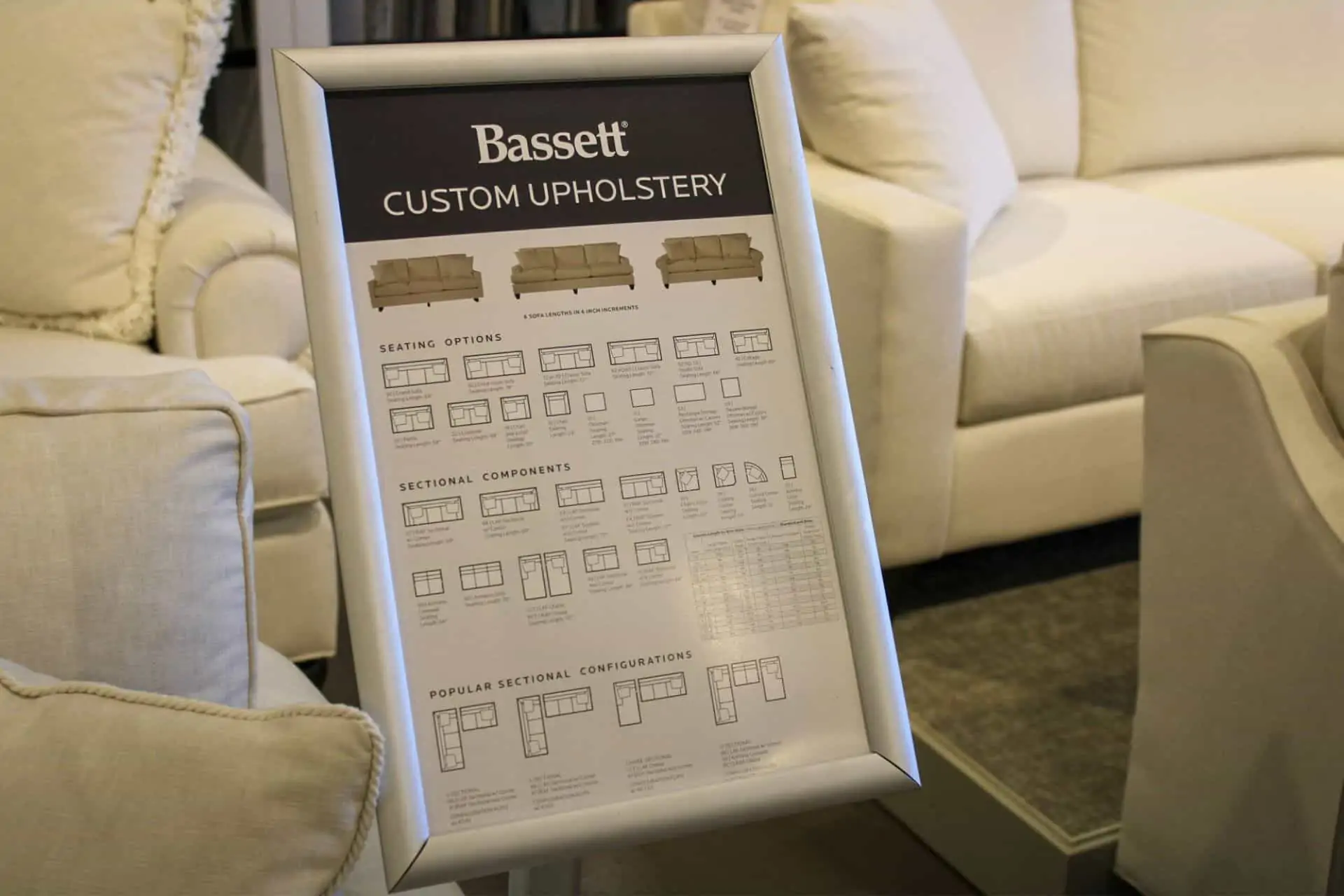 The first step to finding your perfect Bassett sofa is to measure the space you want to fill. The size and style of your sofa will depend on how much room you have. Write these measurements down and bring them into the store with you.
Next, consider how the sofa will be used. How many people will it need to seat? How will the piece compliment the other furniture selections already in the space?
Take note of any materials, colors, and textures that are currently present. Make sure to select a sofa that will go well with your existing pieces.
Upon arrival at our showroom, our interior decorators will help you find the sofa of your dreams. They will take your measurements and provide their expertise in what would make the most sense for your specific style.
Back Cushion Shape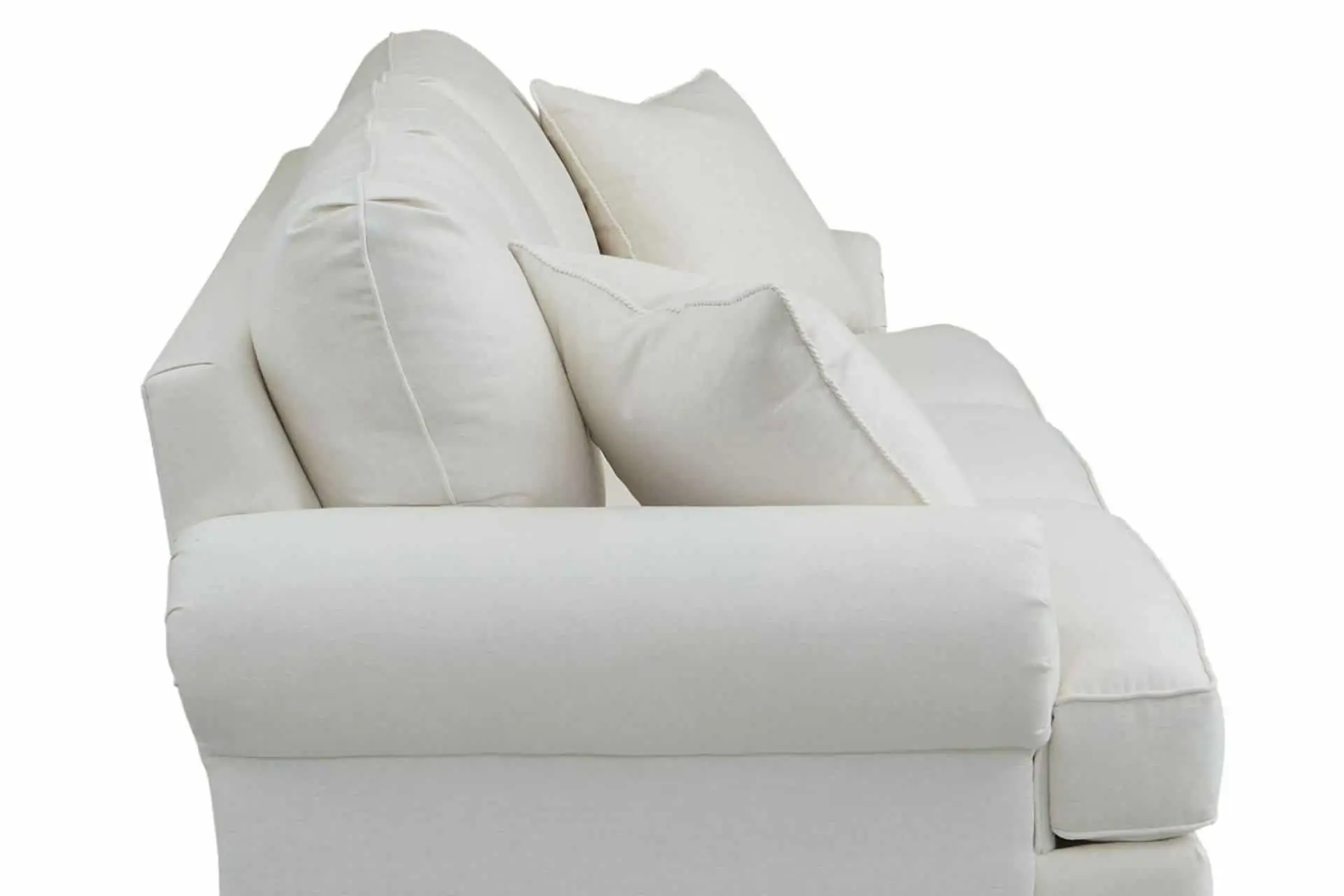 Bassett custom upholstery offers three choices for back cushion shapes:
Arm Shape
Your Bassett sofa can have any of these arm shapes:
Charles of London
Panel
Scoop
Slope
Sock
Track
Base Design
Choose from these base options for your Bassett Benchmade sofa:
Metal
Plinth
Skirt
Tapered
Turned
Patterns and Fabrics
One of the most exciting parts of creating a custom sofa is choosing your body and accent pillow fabrics, patterns, textures, and color. Bassett Furniture offers over 800 fabrics to choose from. With so many options, you will be able to find at least one that properly represents your style.
Bassett also offers performance-treated fabrics that are resistant to stains. Choose this feature to avoid any unnecessary mess from pets or children.
Designing at Woodchuck's
At Woodchuck's, you will have complimentary design services right at your fingertips. Our interior design team is here to guide you through your custom Bassett sofa build. Our non-commissioned employees genuinely care about your shopping experience. They won't pressure you to purchase something you don't really want and will work hard to ensure you get the sofa of your dreams.
If you were thinking about a custom Bassett sofa, now is the best time. At Woodchuck's, customers receive an additional 10% on custom pieces by Bassett, Flexsteel, and Smith Brothers until November 20th.
Stop by Woodchuck's Jacksonville furniture showroom today to begin the journey to customize your Bassett sofa of your dreams.