1. Upholster your custom living room furniture in Serenity to bring your neutral fixtures to life. Whites and blacks dominate this wide-open space, but blue tones in the Serenity sofa and throw add just enough color, while the warm wood accents are balanced by the touch of "sky".
2. Let Mother Nature take the stage with a floor-to-ceiling view of the hue in its natural state. If your bedroom already enjoys a daily dose of blue sky and green foliage, Serenity linens will connect your bedroom furniture to your outdoor surroundings and create a visual flow that soothes.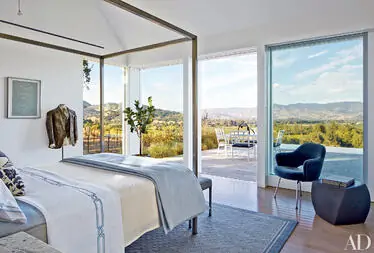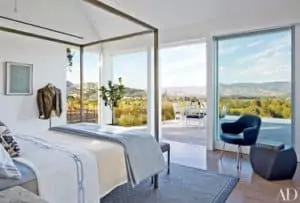 3. Custom beds are full of design possibilities, such as matching your headboard to your accent pillows with a sophisticated Serenity paisley print. If your bedroom furniture and decor is mostly white or gray, a coat of Serenity paint is also a great way to balance the palette.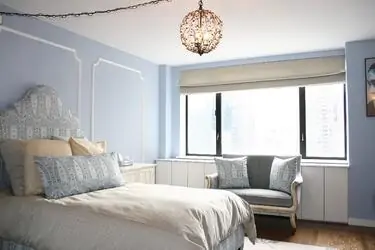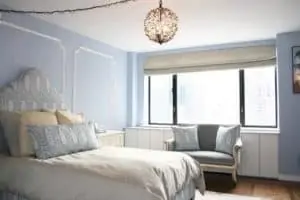 4. Create symmetry in your living room with wall art that mirrors the size and shape of your fireplace. This Serenity seascape is dominated by shades of blue, and it serves as a focal point for the rest of the living room furniture, bringing together other beachy elements such as white wood and nautical decor.
5. Stick to a single accent wall and let the paint do all the work for you. This dose of Serenity joins a jolt of green leaves to provide the only color in the whole room, but it's more than enough to balance out the white flooring, ceiling, living room furniture, and other neutral details.
6. Go bold by painting the whole room Serenity and balancing it out with custom furniture in a complementary color. Rose quartz is a natural choice for the custom upholstery, and a metal lampshade reflects the blue walls while simple white details stay out of the way visually.
7. Serenity is a lighter, cooler version of the eggshell blue that dominated Victorian parlor rooms once upon a time. Bring back the elegance of blue decor with a symmetrical seating area and light Serenity walls. Pay attention to the shapes that dominate the space, balancing curves with corners.
8. Every garden needs a bright blue sky to thrive, so why not bring your garden inside with plenty of flowers to complement your textured serenity wallpaper? Botanical patterns, artwork, and live floral arrangements also add extra depth and color to the serenity sofa and rose quartz chair.
9. Stick to a muted, almost gray shade of serenity paint, and use it as a base for rose-tinted fixtures and textiles. Our custom dining room sets make it easy to pair multiple chair styles with a single table, and we love this mix-and-match combination of rose quartz chairs and wood chairs with a rose quartz pillow.
10. In a room full of solids, a single multicolor pattern provides all the pop you need. This lampshade repeats the custom couch's soft serenity hue, but it also winds the color around neutral white and rose quartz to pull the whole room together.
If you like the look of a serenity sofa or bed, take advantage of the custom upholstery options available in Basset's HGTV Home Furniture collection.