Create Your Own Desk
Sometimes the best desk isn't a desk at all. Our favorite Franken-desks combine antique doors, glass tabletops, and other unique surfaces with "legs" that already have shelves and drawers. You get to decide the style, height, and storage capacity, and what type of support your desk can have.
Small shoe cabinets and children's bookshelves are convenient heights for desk "legs", but you may also add risers to smaller furniture or cut taller bookshelves in half.
Store Supplies in Mason Jars
Shrink your carbon footprint and declutter your work surface in one fell swoop! Glass is a sturdy and attractive way to store your small office supplies, and you get free jars every time you buy spaghetti sauce. Just wash and reuse these Mason jars for pens, markers, paperclips, and other essentials. For easier access, glue several jars together and stack them horizontally.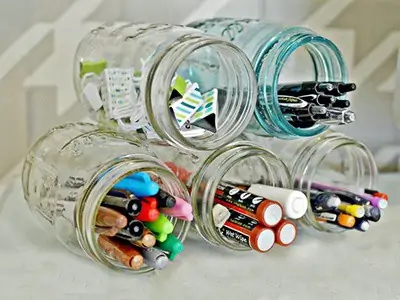 Find Furniture with Built-in Storage
As you browse contemporary furniture stores, don't limit yourself to the home office section. Living room and bedroom furniture collections are full of comfortable, space-saving pieces such as storage ottomans and tables with built-in drawers. Furnish your home office with cushions and colors for a more peaceful environment, but always make sure your furniture serves a storage purpose too.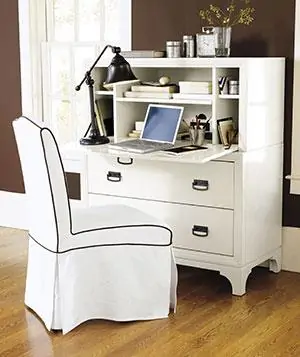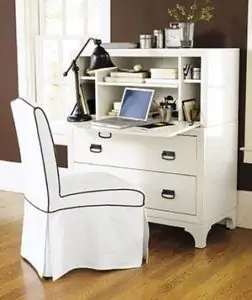 Harness the Power of Hinges
What's the difference between two bookshelves and a fold-away desk? One set of hinges. Yep, this small piece of door hardware has the potential to truly transform your office, and we recommend it for rooms that are short on space. Connect a pair of bookcases with hinges so that they face each other when folded inwards. One bookshelf can hold all your essential supplies and files, while the other doubles as a desk when you remove the shelves from the bottom half. If your office space doubles as a den or bedroom, once you're done working you can just fold the shelves inward and voila!
Skip the Desk Altogether
Are you making the most of your vertical storage space? If your walls are bare but your floors are cluttered with various pieces of furniture, then it might be time to phase out your desk in favor of versatile staggered shelves. Mount a long, wide shelf at waist height to serve as your work surface, and stagger smaller shelves around it to hold your equipment and supplies. Hide magnetic knife racks beneath some shelves, and use magnets, hooks, and paperclips to hang important notes and supplies right where you need them.
An organized, personalized home office will make your life a lot easier, but it also gives you something to look forward to every morning. As you look for creative ways to organize your workday essentials and set up your work space, take advantage of versatile home office furniture that we offer in our showroom. Our collections of contemporary furniture includes designs that will inspire you to work harder and more efficiently from your custom home office.
For more help on designing your perfect room, download our MODA Style Guide.