A statement table isn't for remarkable occasions; it's for remarkable people.
Simply put, a statement dining table makes a statement. Not content to wither in the background of the room or play second fiddle to a tablecloth, they command attention for one reason or another. Maybe it's because of the dimensions, since some are behemoths. Or maybe it's the materials, because the whole point is being different.
Regardless of how they do it, statement dining tables stand out. And it's one of the biggest furniture trends in interior design right now.
A Statement Dining Table Anchors the Room
Every room has an anchor; the primary focus. It can be accidental, or you can cultivate it. In a boring room with little attention to overall design, the anchor might be as innocuous as draperies. But in a well-designed space, the anchor is intentional.
A statement dining table is the anchor in many modern dining rooms, regardless of the architectural style of the home. It's where the eye falls first, and Freshome calls it a trend that's still gaining momentum. Because of that, it needs to be something that you can not only live with, but enjoy for a long time.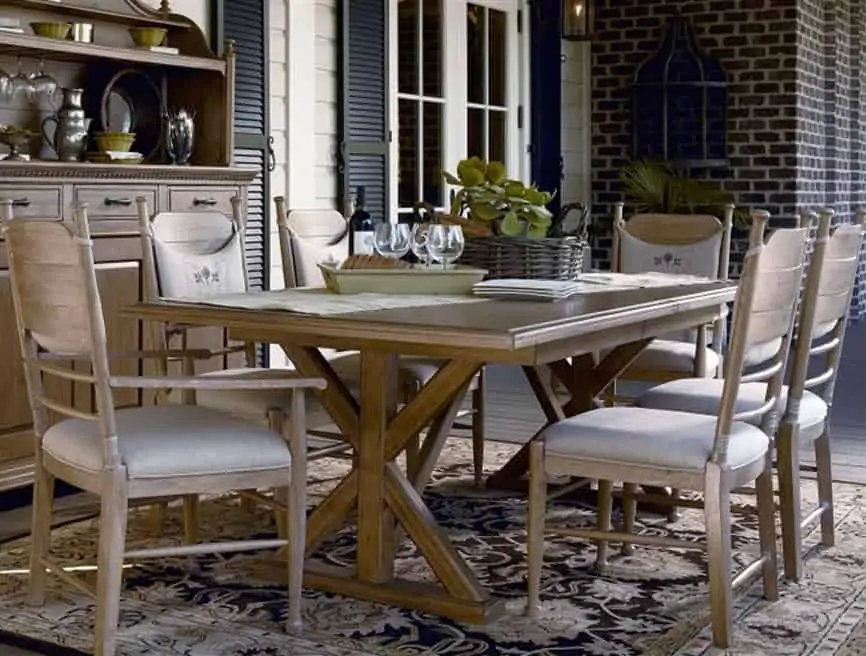 The Paula Deen Family Style Table looks like it was always meant to be there.
Attention-Getting Tables Combine Art and Function
It might be unusual to think about furnishings as art, but they can be. And a statement dining table often is. Consider the trend of upscale casual family tables. Usually substantial, like our Paula Deen Family Style Table by Universal with its softly worn finish, they give any dining room instant history. This table could have been the setting for generations of family meals, and it might yet be.
Another look that's getting a lot of attention right now is an artistic table base with a glass tabletop. Our Solana Round Dining Table is a perfect example, with its carved pedestal base. That flips the anchor idea upside down, with the most interesting part of the table being the foundation while the tabletop floats above it.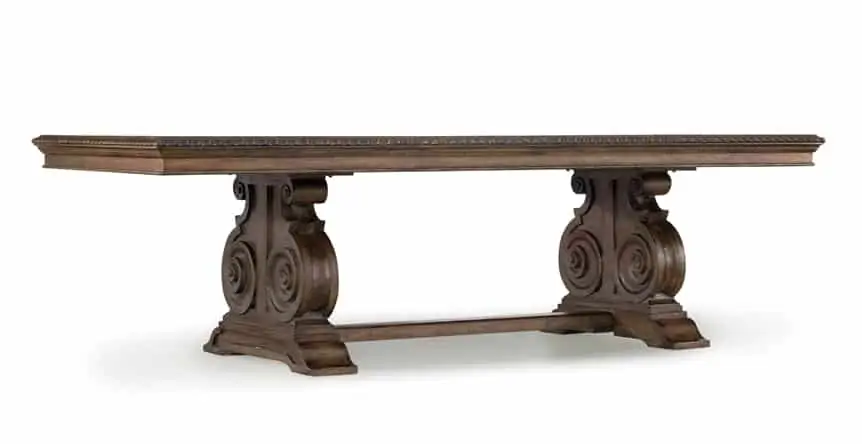 A statement table like Rhapsody commands attention in any room.
Statement Tables Take Commitment
If there's any drawback to a statement dining table, it's that you really need to love it and be committed to its contribution to the theme of your home. If you do, then it's not a drawback at all. If you don't, it could leave you less-than-enthusiastic about a major part of your decor. Asses your style and the furniture that you already own, and use that as your guide.
Will your furniture complement your new table, or will the combination crash and clash? A large, rectangular table with ornately carved base, like our Rhapsody Rectangle Dining Table, won't go unnoticed. So if your home supports something so dramatic, then it's perfect. If your house is more of a sleek, 50s mid-mod, it won't work at all. It's the same, no matter which table catches your eye.
A statement dining room table isn't one of those furniture trends for the meek, but it can add an important design layer when you get it right. If you're confident in your style and not still searching for it, the choice will be a lot easier. If you're still developing it, you'll need to consider not just your existing furniture, but where you plan to take your whole home in the years to come.