Spring is blossoming and so are outdoor gatherings. Enjoying warmer weather with some guests on the porch is a popular way to cast off those winter blues. This is also a great time to give your porch an upgrade—why not put a refreshing twist on your patio decor? This season, the best way to add some lush to your lanai is by working with a Woodchuck's design consultant and having your new furniture delivered to your home. In need of some patio inspiration? Follow these styling tips to have your veranda in full bloom. 
How to Style a Coastal Patio
Bring the beach to your backyard this spring with a coastal-inspired patio design. Start by incorporating a mix of light-colored wooden features and wicker accents. Placing crisp white or blue cushioning on these fixtures adds an aesthetic that calls back to the boardwalk. Then accessorize with pillows and ceramic pieces. Below are some product recommendations that will make your patio a shore-thing: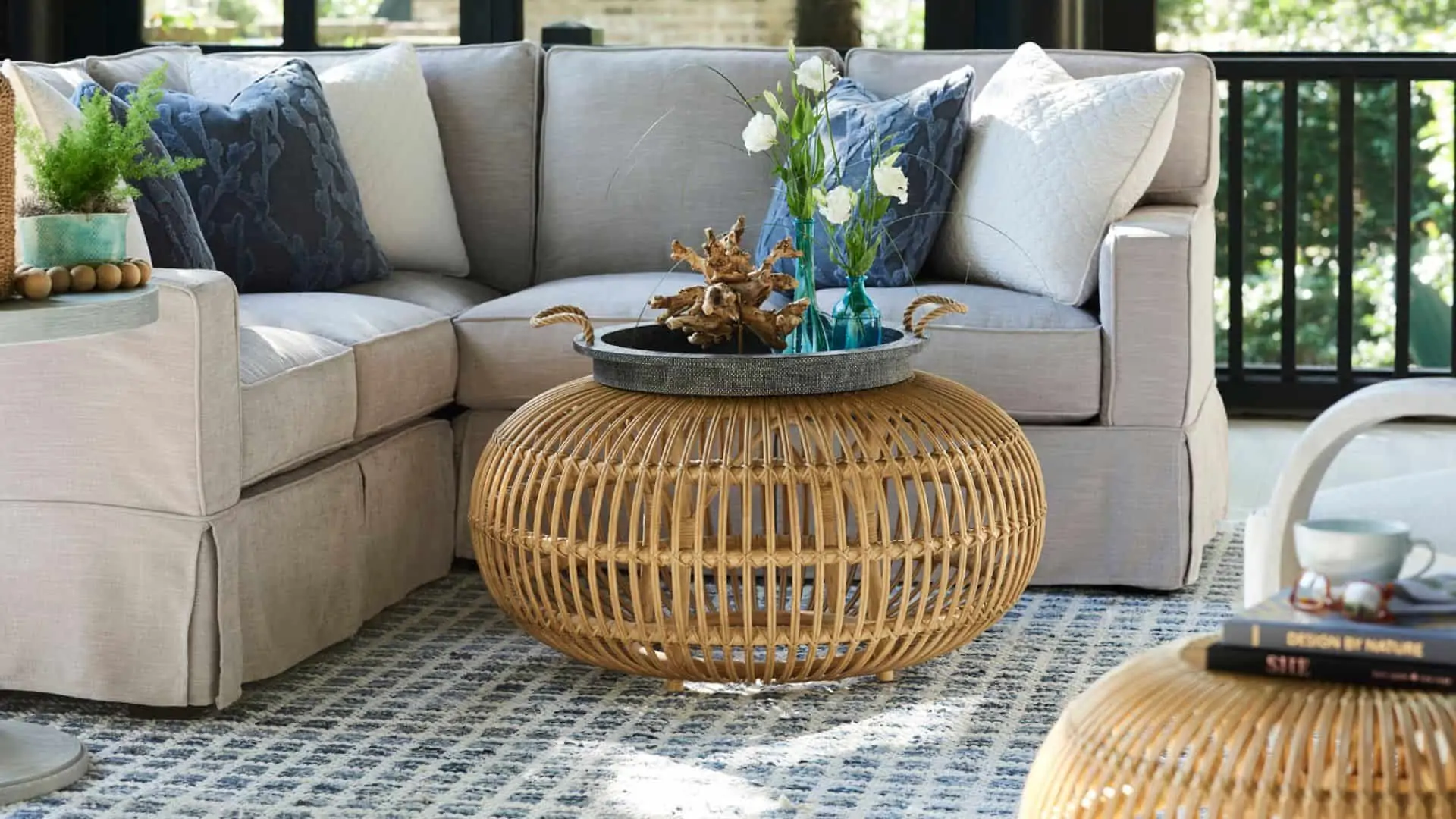 Dine like you're seaside on the Rattan Scatter Table from Universal Furniture's Escape-Coastal Living Collection. This piece adds a bit of beachy flair and bohemian texture to your space.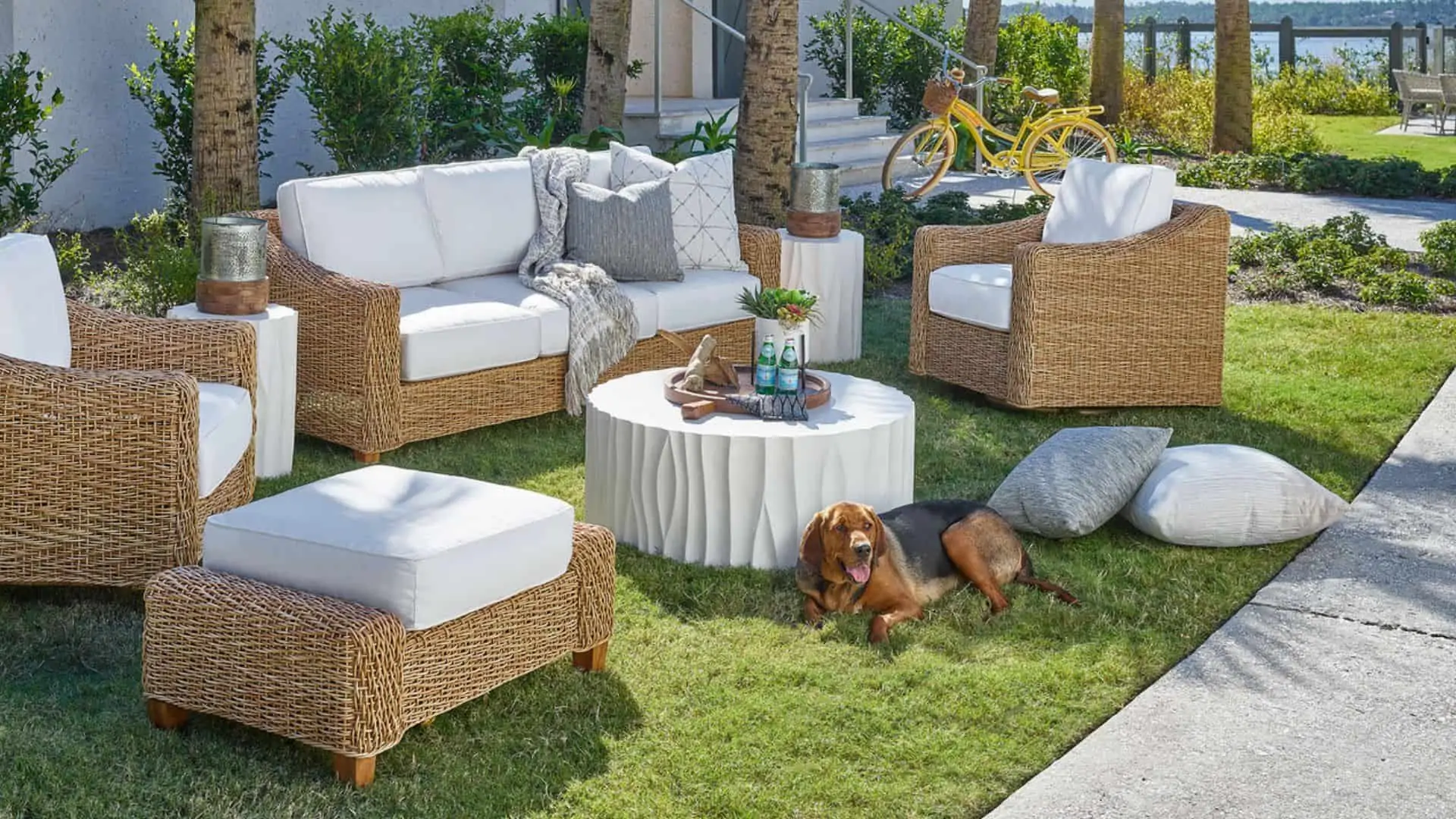 Opt for a tropical resort feel with the Geneva Round Cocktail Table from Universal Furniture's Coastal Living Collection. This mod-style table incorporates rich sculptural accents and a striking white hue that'll brighten your outdoor oasis.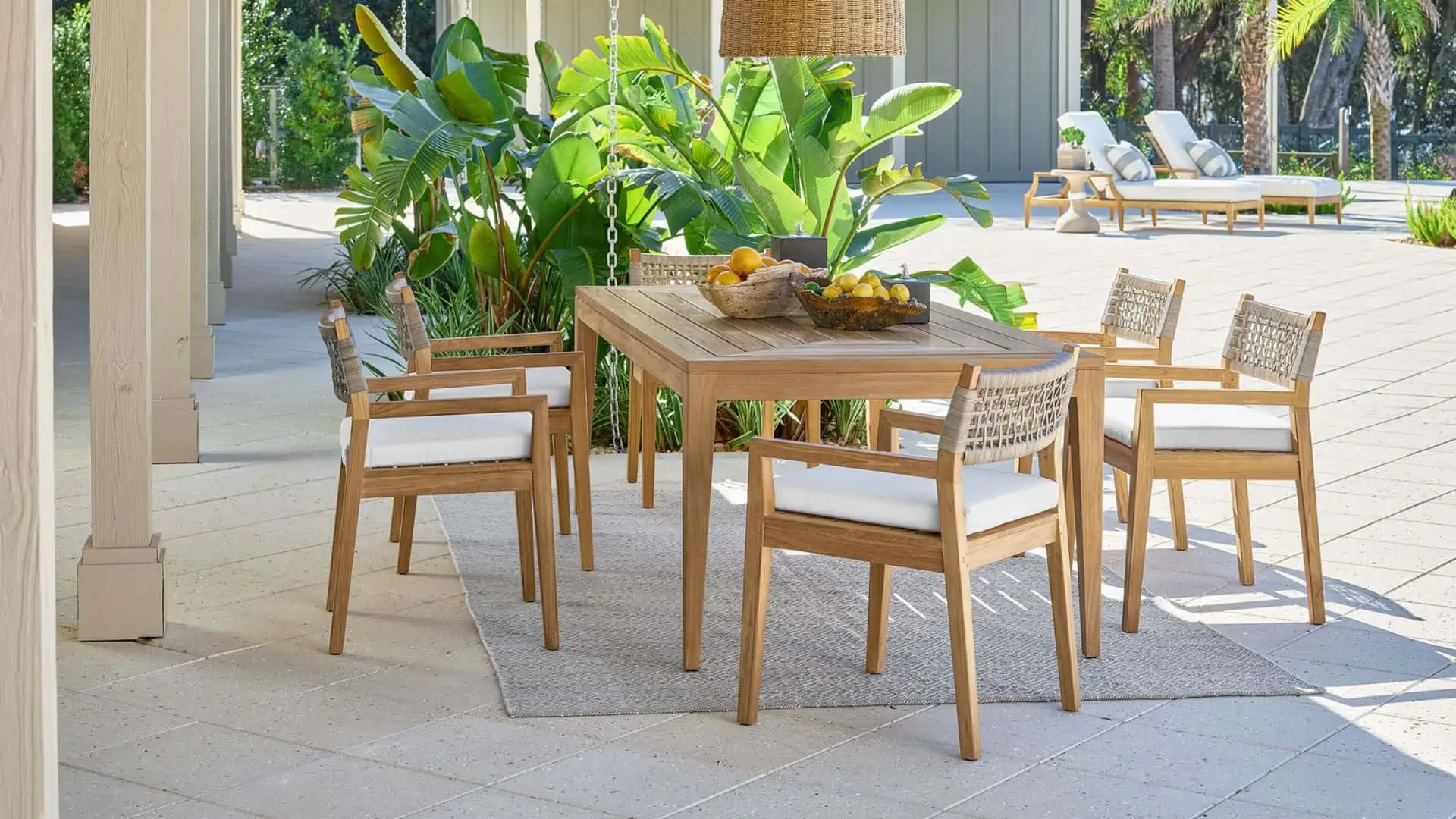 Conjure classic comfort and style with the Chesapeake Arm Chair and Bar Stools from Universal Furniture's Coastal Living Outdoor Collection. These wooden chairs come with upholstered seats and wicker accents for a laid-back, breezy look. 
Pair the Chesapeake Sofa and Laconia Ottoman from Universal Furniture's Coastal Living Outdoor Collections. Gorgeous wicker and wood come together to welcome timeless coastal vibes. 
Styling a Rustic Patio
When styling your patio with rustic decor, combining natural materials and textures is a must. Blending textures will create an earthy and artisanal atmosphere for your patio. In true rustic fashion, adding foliage, such as potted plants, nearby garden beds, and bushes or shrubs will complement this mix. This is a wonderful way to add a vibrant, organic pop to your porch! Here are a few recommendations to craft your homey outdoor paradise.
Relax and recline on the Newton Garden Bench from Bassett Furniture. This bench boasts natural, plantation-grown solid teak wood. With its sturdy but elegant quality, this bench is sure to last for many garden gatherings to come. 
The Martin Teak Tables from Bassett Furniture add a nostalgic, warm ambiance to your porch. With a variety of shapes and sizes to choose from, the custom possibilities of your rustic ramada are endless. Some of these selections include round dining tables, square end tables, and rectangular dining tables. 
Looking for something unique to shake up the texture? The Miramar End Drum Table from Bernhardt Furniture gives "classic meets contemporary" with an edge. 
Styling a Cottage Patio 
Cottage patios are known to evoke feelings of nostalgia and romance. Rattan, wood, and wicker are wonderful textures to incorporate. These work well with whimsical decor such as flowers, plants, and string lights. To give your patio a soft, amorous touch, invest in some upholstered cushions and accessories. Plush outdoor pillows and a patio rug will add some extra magic. With a cottage porch, love is in the air. Below, we've compiled a list of enchanting product recommendations. 
Find a soft, cozy couch you can snooze on, such as the Captiva Sofa from Bernhardt Furniture. This piece's timeless and durable Herringbone Weave All-Weather wicker uniquely combines texture with lavish cushioning. 
The Savannah outdoor rug from Bassett furniture features a chic pattern of olive and ivory tones—perfect to match a garden palette. 
Adding a Boden Accent Table or two from Universal Furniture creates a soft touch with its gorgeous silhouette.
A cottage porch wouldn't be complete without some evening dining. The Leeward Cocktail Table from Bernhardt Furniture is the perfect functional centerpiece. The table is set to impress with galvanized adjustable glides and a slat top with open space between them.
Take Advantage of Woodchuck's Complimentary Design Consulting
Whether you want to create your own beachy oasis, a country hideaway, or cozy cottage porch, we have the vision you're looking for. Woodchuck's is the premiere furniture showroom in Jacksonville, Florida. Plus, you can feel confident about your selection after your consultation with our complimentary design team. Your designer will help you hone your outdoor style.
Once you've picked out your perfect pieces, consider our white-glove delivery. You pick your delivery window and we'll assemble your pieces for you. Visit our showroom today to browse our outdoor furniture selection.