With home decor trends constantly evolving, furniture shopping as the seasons change can be daunting, especially if you don't know where to start. The best way to craft a fall-themed room in your home that will last beyond the season is by working with an experienced design consultant at Woodchuck's Fine Furniture.
When you work with the skilled professionals at Woodchuck's, you'll receive personalized advice on crafting a fall-themed room with furniture built to last for generations. Don't embark on the journey of decorating your home with fall furniture alone without our design consultants. 
Curved Silhouettes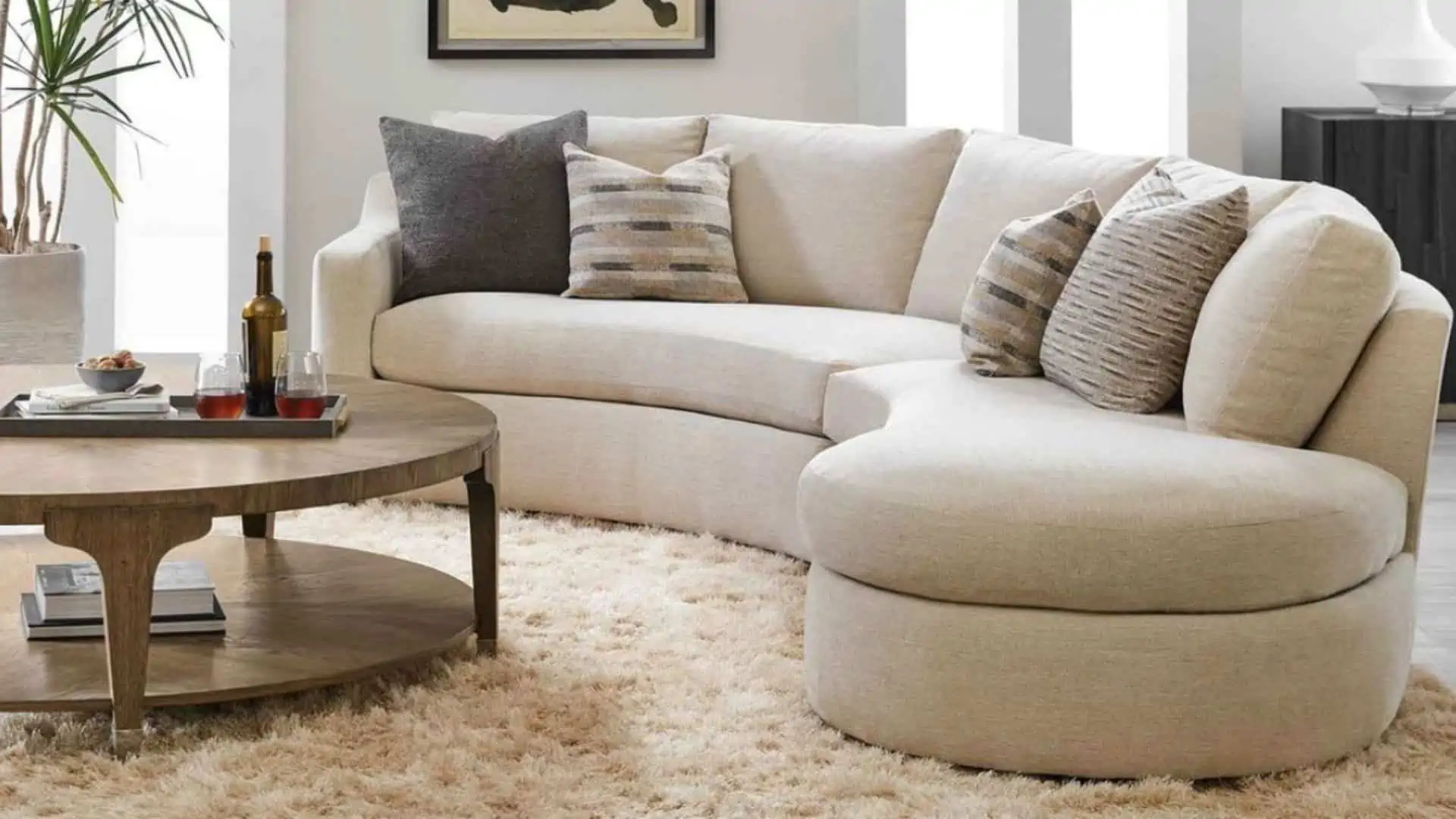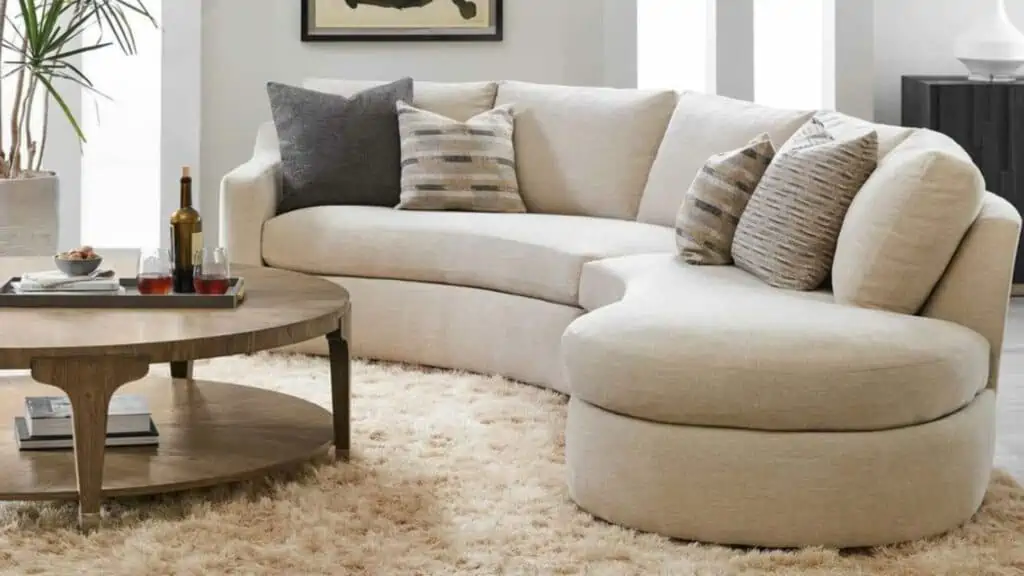 Curved sofas and sectionals are a trendy way to make a dynamic focal point in your living room space. Round edges and arches are becoming increasingly popular home decor styles. Find the perfect piece at Woodchuck's this fall with the help of our design consultants.
Our Sam Moore Larrabee Curved Sectional encompasses all the right aspects of the curved silhouette trend. It has over 500 cover options to fit your lifestyle and aesthetic preferences. Consider a circular arrangement by centering your couch around a coffee table using chairs or ottomans to create an inviting and comfortable space. 
With endless ways to incorporate curved silhouettes into your home, our design consultants can provide you with fall living room inspiration based on home decor trends and your personal style choices and preferences.
Warm Wood Tones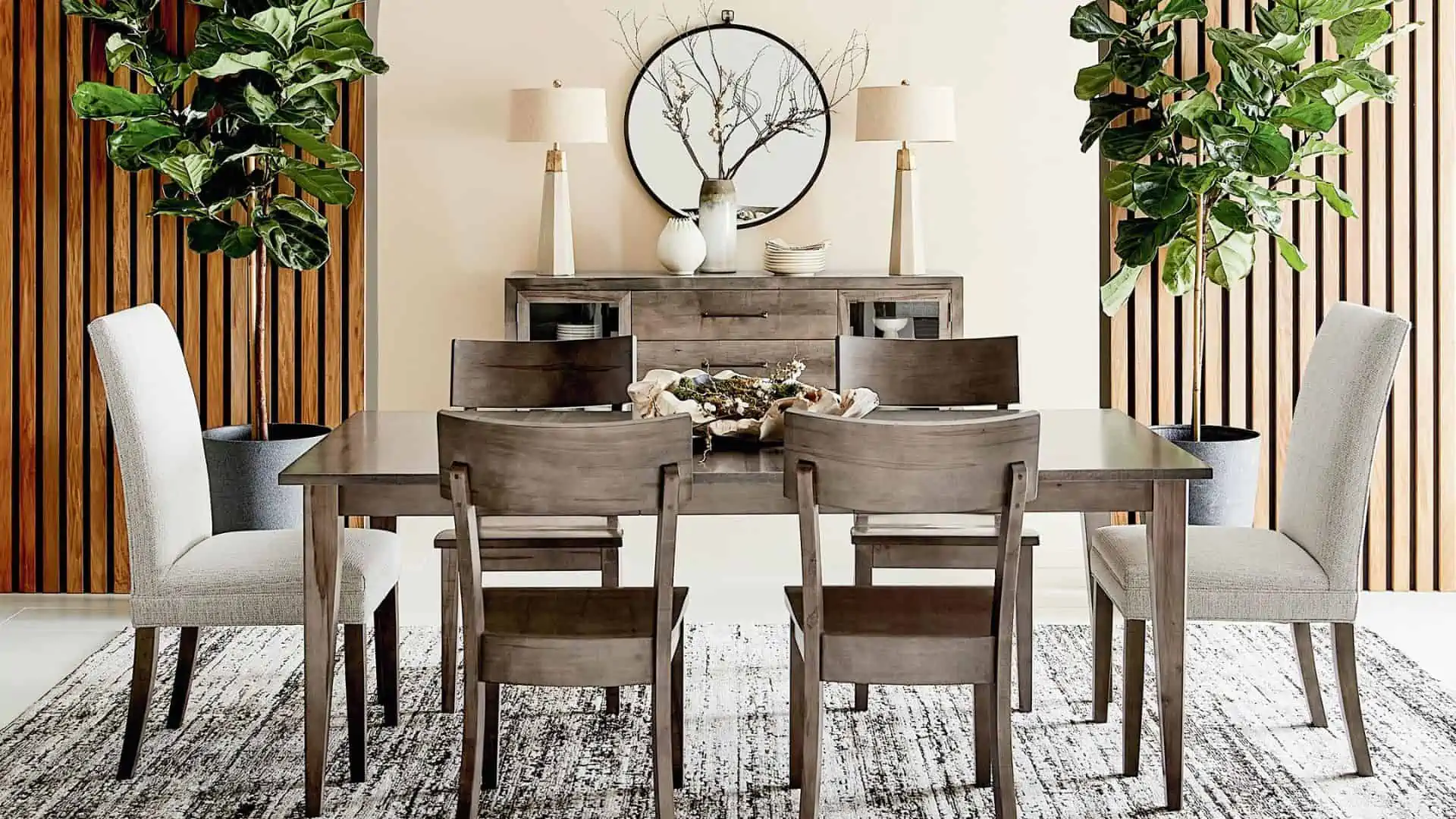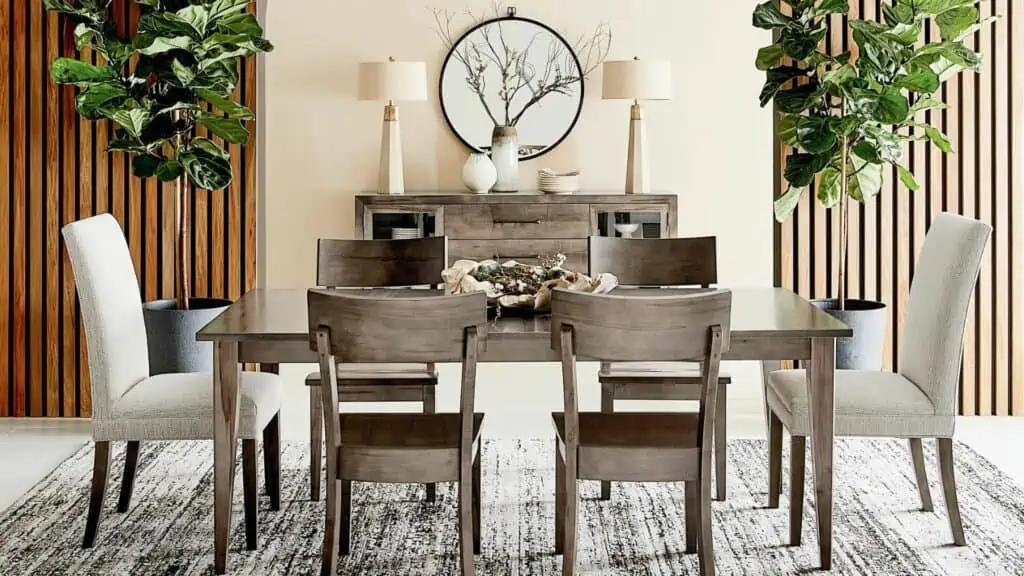 Light-colored wood is falling out of fashion this season. Warm wood tones paired with earth colors and palettes are surfacing as a popular fall furniture design trend. Woodchuck's offers a wide variety of solid, dark wood dining tables, coffee tables, accent tables, bedroom furniture, and more. 
We carry brands like Bassett, Mavin Furniture, and Universal Furniture with large selections of warm wood tones in living, dining, and bedroom furniture. Style these pieces with light or cream-colored fabric and deep green or vibrant-colored plants.
Complete your fall home decor with Bassett's Louisa Maple Rectangle Leaf Table in Sandstone Maple, Mavin Furniture's Fontana King Bed in Quartersawn Oak, or Universal Furniture's Modern Farmhouse Sadie Credenza living room storage piece in Buttermilk.
Genuine Leather Furniture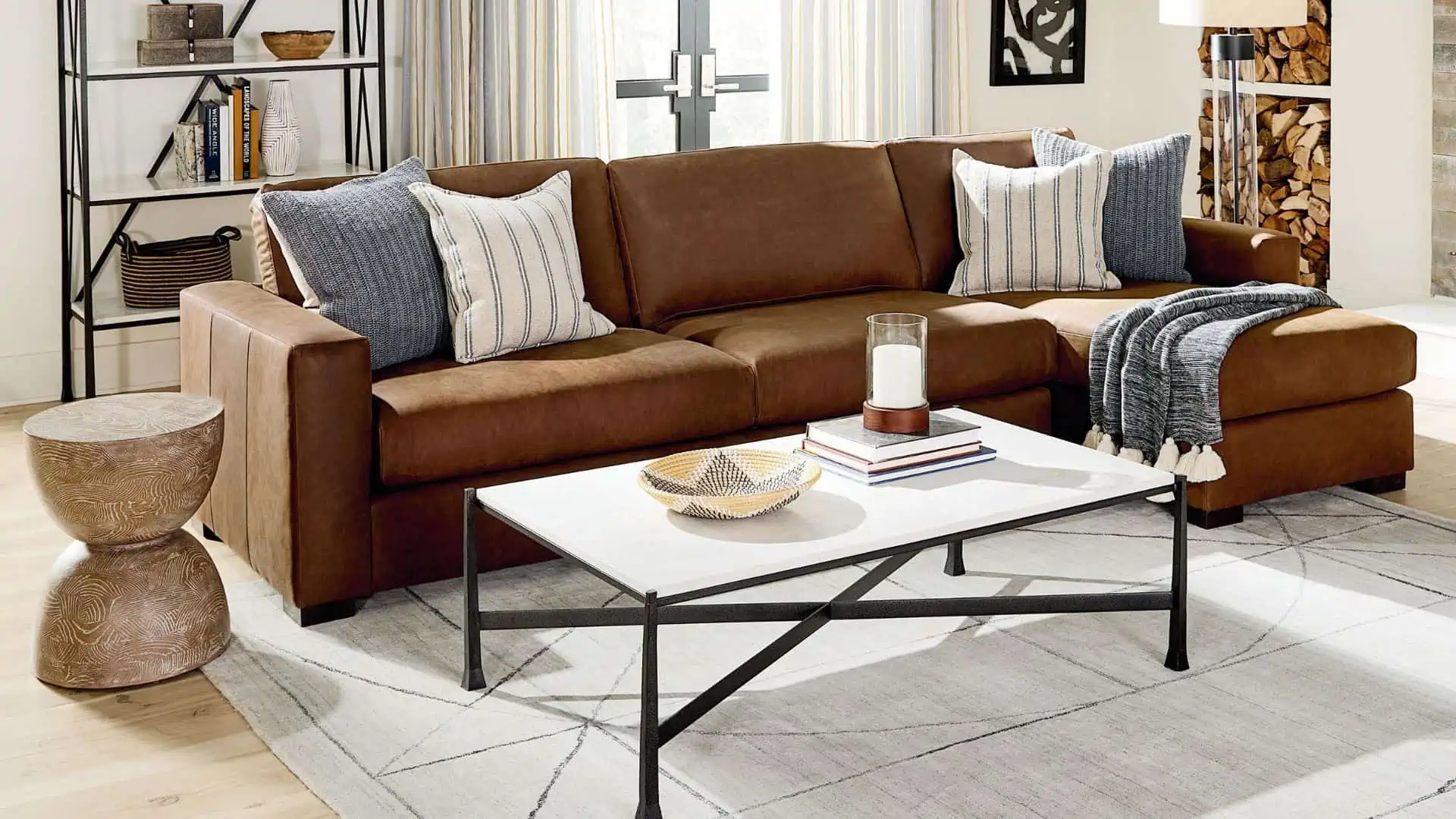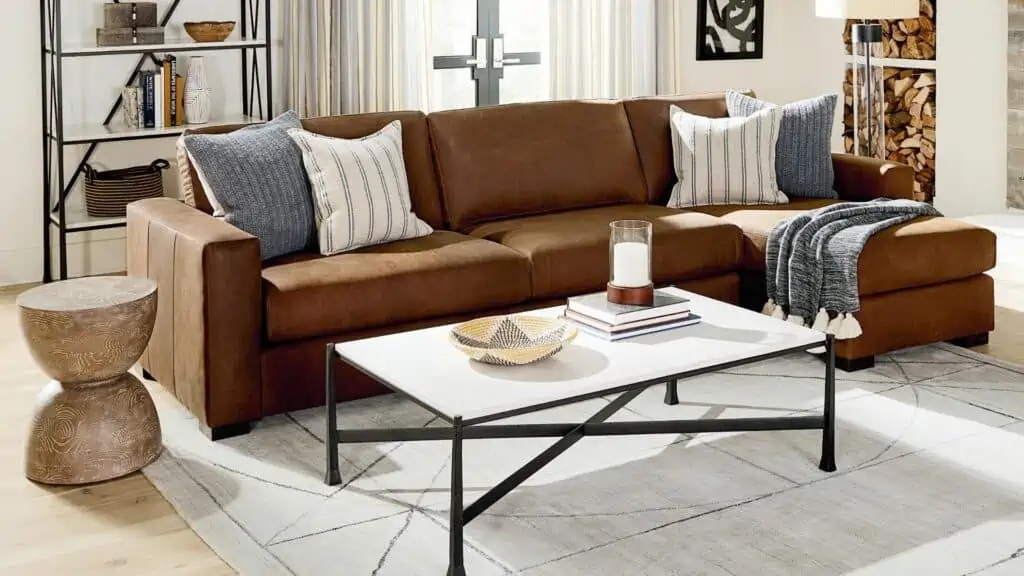 Woodchuck's Fine Furniture carries a large selection of leather furniture, perfect for your fall living room, bedroom, or office. Our top brands like Flexsteel, Bernhardt Furniture, and Bassett carry a variety of leather pieces that will prepare your home for the new season.
Leather pieces give your home dimension, especially when paired with dark rugs, pillows, and other accent pieces. Leather furniture is considerably timeless and provides any room with a natural yet luxurious feel.
Leather doesn't have to be incorporated into staple furniture pieces like couches or reclining chairs, as it is also becoming a trend when included in woven rugs, dining room chairs, and even smaller decorations like pillows. Vintage leather bedframes are great ways to incorporate fall into the bedroom.
Traditional Dining Rooms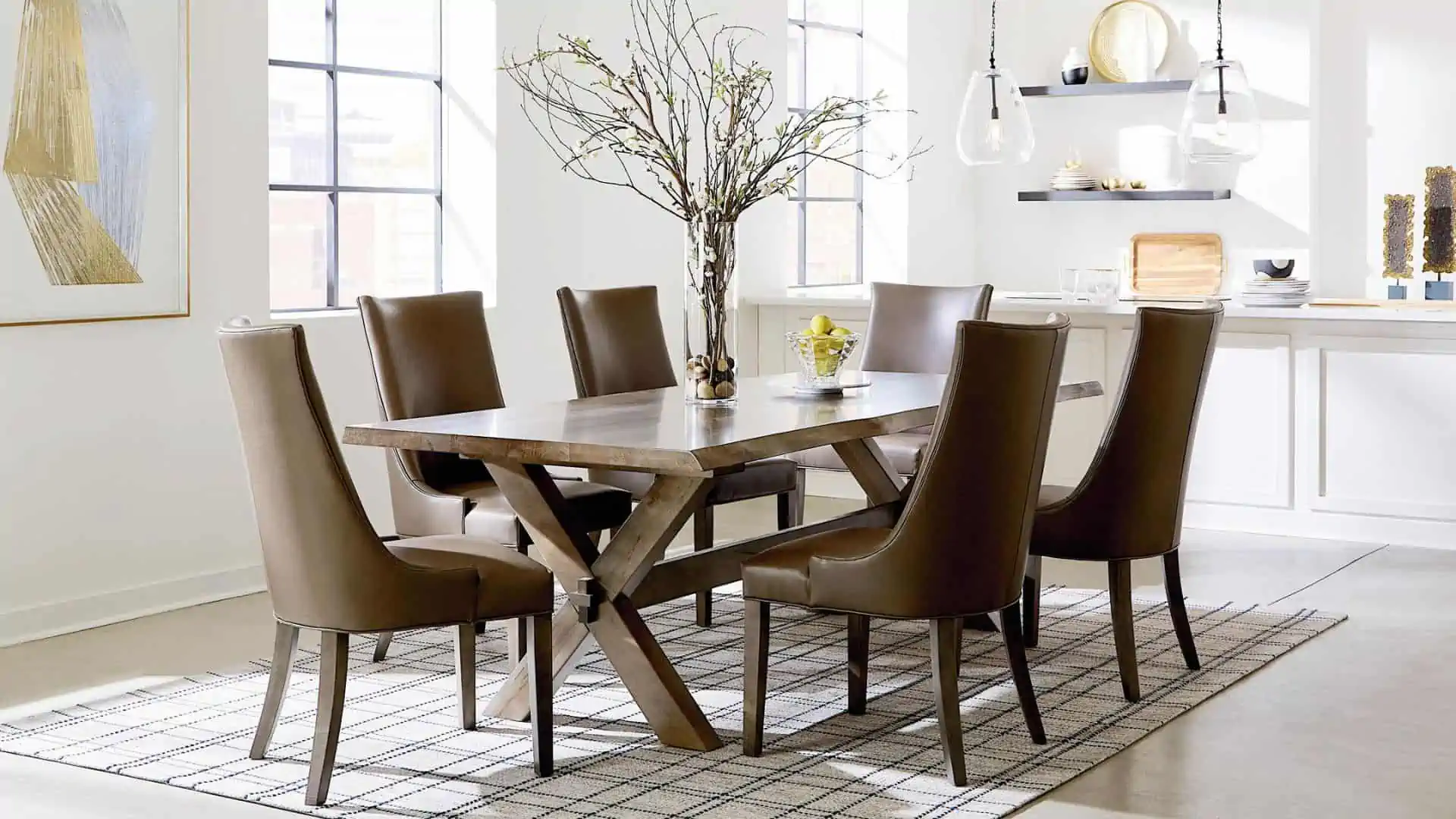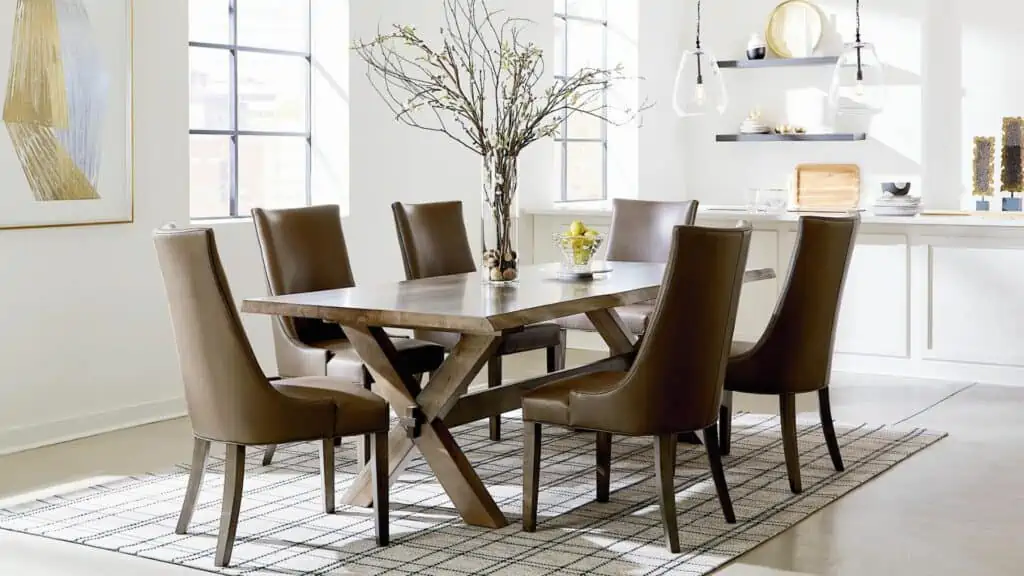 Large, traditional dining room tables are perfect for fall festivities. Woodchuck's Fine Furniture carries a large variety of formal dining room furniture and offers many options for customization. Find the perfect custom dining room tables from Mavin Furniture or Bassett Furniture's BenchMade line.
Woodchuck's design consultants can not only provide you with insight on trending fall furniture styles for your dining room but also with direction on designing custom pieces when options are endless. Natural accents are a popular way to decorate your dining room space in a simple yet inviting manner.
Vintage furniture and ornate marble are also becoming increasingly trendy, and are easy to incorporate into your dining room space with antique china cabinets, marble dining tables, or vintage chairs. Historic details can also be incorporated with pleated lampshades, unique furniture legs, and more.
Fall Farmhouse Decor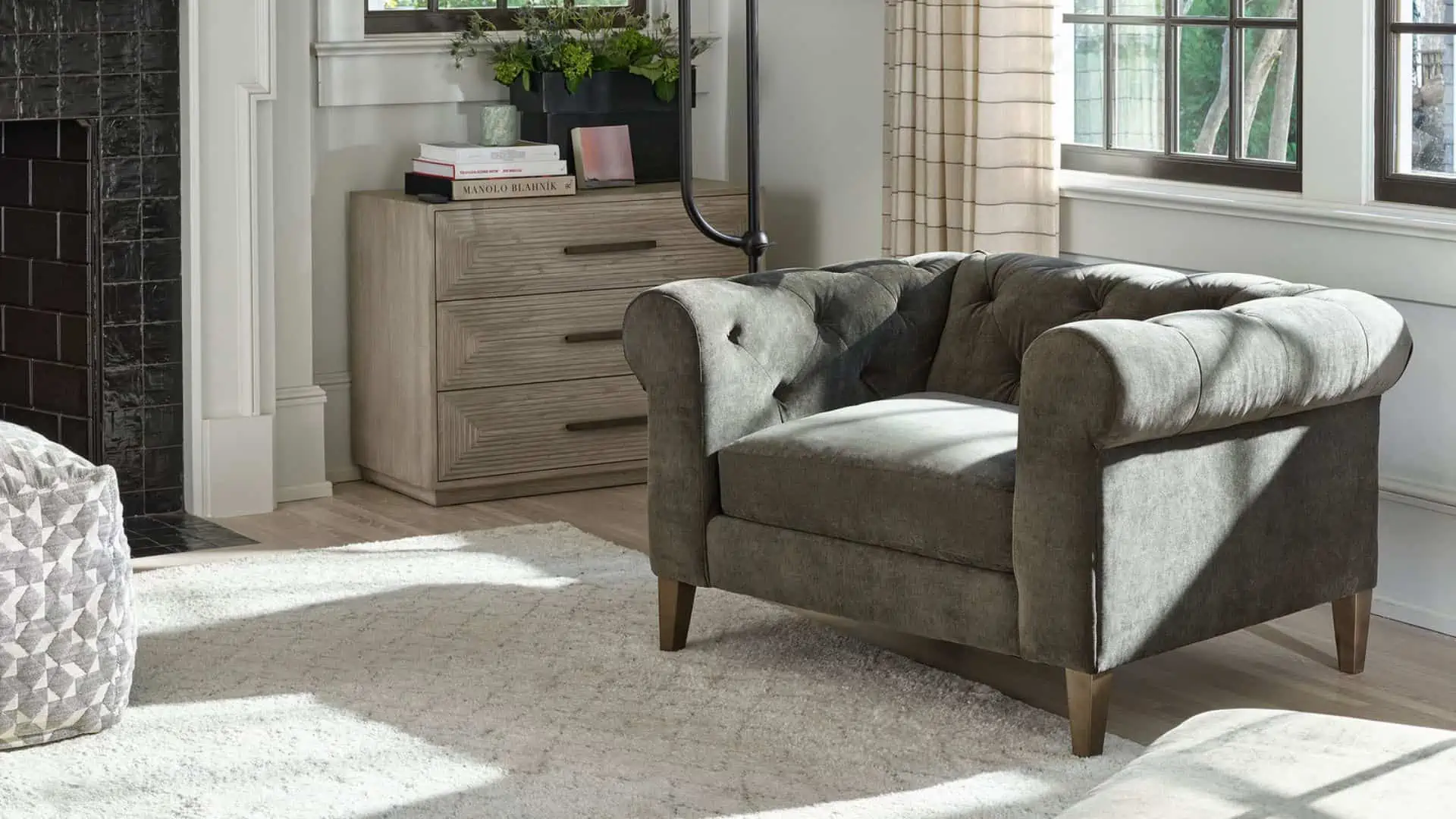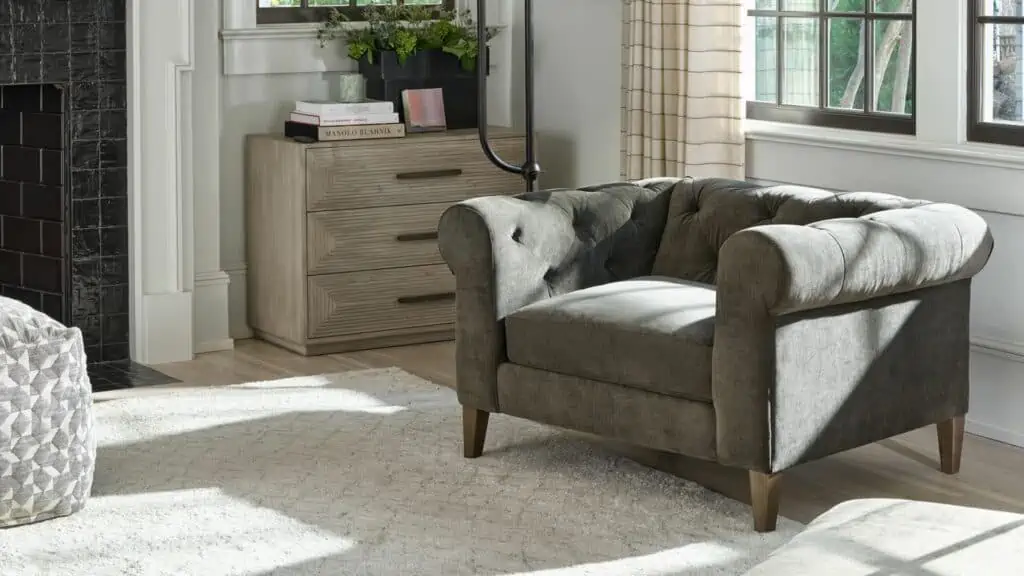 For those who love a farmhouse or cottage-style room, Woodchuck's carries a wide range of furniture to fit your needs. Universal Furniture's Modern Farmhouse collection is stocked with a variety of perfect pieces to achieve this look in your home.
Farmhouse styles are commonly achieved with fall furniture and decor like wreaths, seasonal fruits, or decorated blackboards. It is also important to incorporate warm hues in your living and kitchen spaces to encompass the coziness of the season. 
Simple additions in the kitchen are the perfect way to complete your fall farmhouse look. Incorporate fall items like cookbooks, gourds, or pumpkins to give the space a seasonal feel. Woodchuck's carries a large selection of popular farmhouse and cottage-style pieces to transform your home for fall.  
Decorating your home for fall doesn't have to feel overwhelming. Our team of experienced design consultants is ready to help bring your vision to life today. Visit Woodchuck's Fine Furniture store and showroom to update your home for the fall season in style.