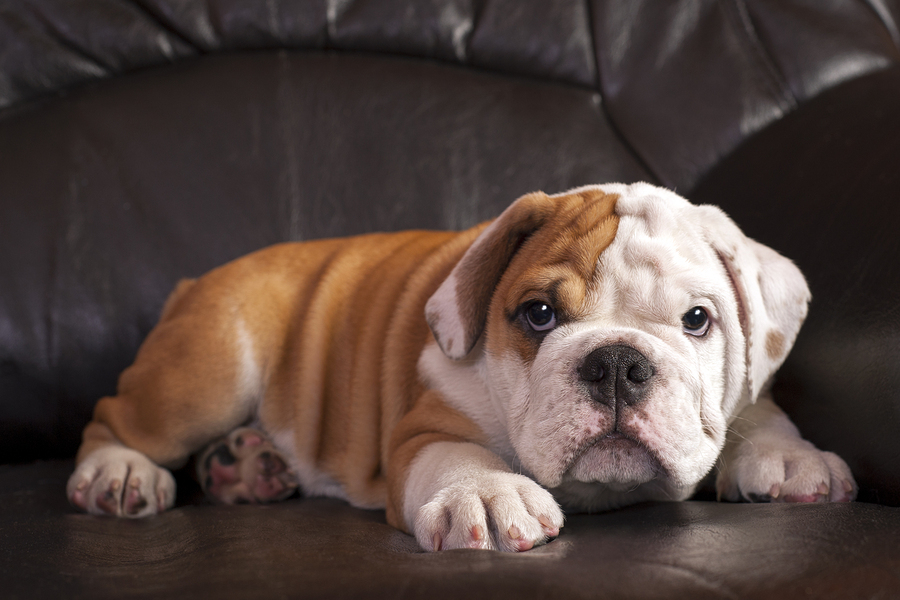 You're not the only one who loves a nice leather sofa.
Leather furniture isn't the delicate, fussy, impossible choice that some people might think. It's tough but soft, and can outlast most fabrics under the same conditions. Is that surprising? It shouldn't be. Leather furnishings have been around for thousands of years, according to BuildDirect. That's a lot of time to be proven unsuitable, but that not what happened.
Every design period has examples of leather furnishings. The Victorian-era had its leather Chesterfield sofas, and the 20s had is own designs. The 50s had its Eames and Knoll Barcelona chairs, and so on up through history.
It's safe to say that leather has proven itself as a long-wearing, comfortable choice for any home, even one just like yours. Here's why: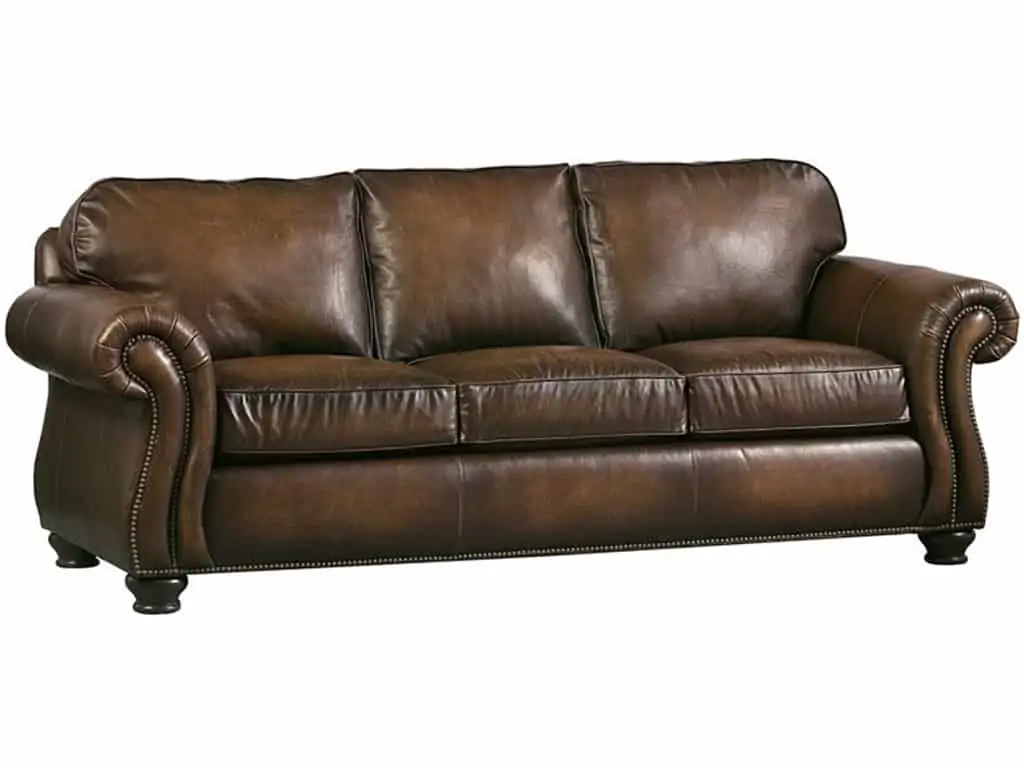 Premium quality leather can also equal comfort.
#1: Leather Means Premium Furniture
Leather furnishings, such as the Bernhardt Vincent Sofa, are synonymous with luxury. And unlike fabric upholstery, leather blends with nearly any decor scheme that you can imagine. It doesn't go out of style the way that a fabric patten can. Ultra sleek and modern or down-home country, leather adds comfort and quality, no matter which room it's in.
Watch out for low-quality leathers, which are found in closeout and deep discount stores. The hides might be thinner, which can lead to tears. Dyes might be cheaper, or the furniture might actually be vinyl instead of the real thing.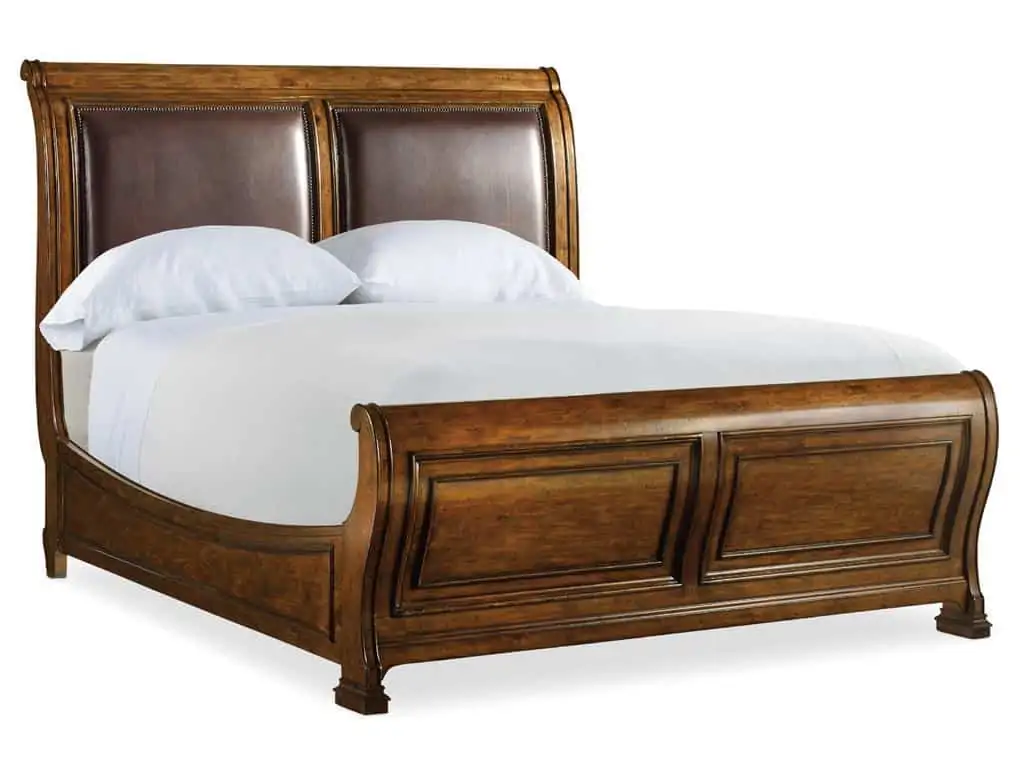 With a leather headboard, you'll barely need to dust it.
#2: It's Easier to Clean than Fabric
Think leather seems difficult to keep clean? Not as difficult as fabric. All that you'll need for regular care is a damp cloth, says HGTV. Just wipe it down to remove dust. That's true for the Hooker Furniture Tynecastle King Sleigh Bed, anything else that you buy.
An ink stain doesn't spell doom for leather. A little saddle soap can remove most spots. And speaking of Spot, if your pet scratches your best leather sofa, those areas can be refinished. Try that with fabric, and your best options will likely be reupholstering.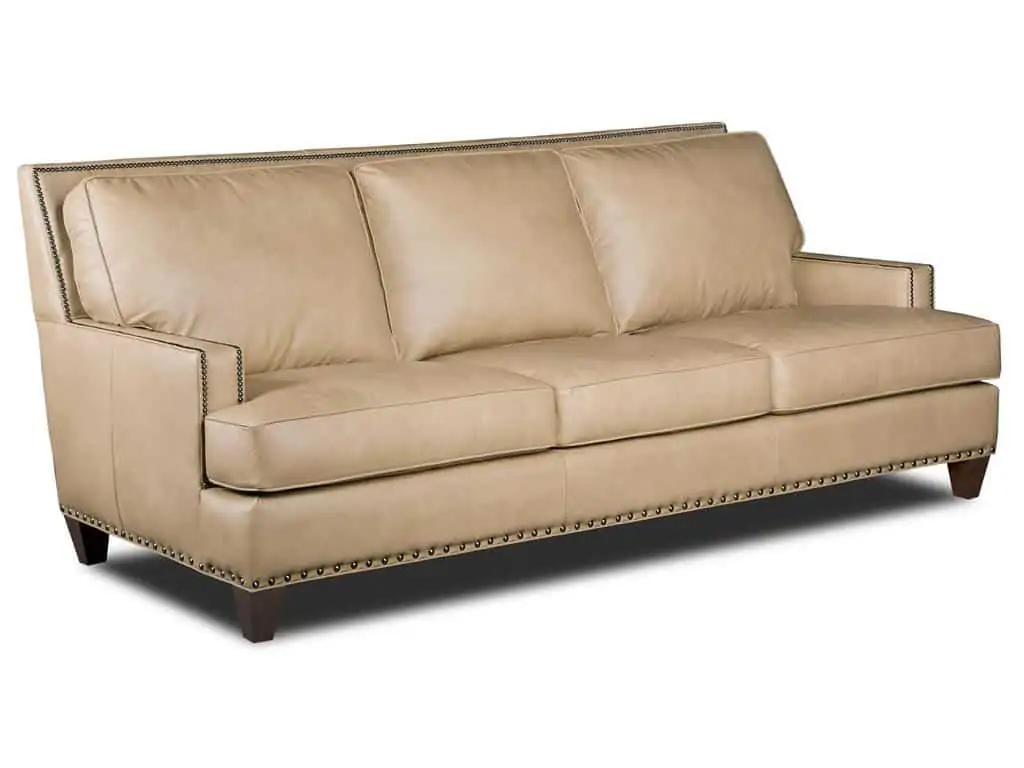 Leather looks warm, and only takes a moment to feel that way.
#3: The Cold Leather Hype isn't Necessarily True
One of the most common and persistent myths about leather is that it's cold. Many people who choose fabric upholstery over leather do so for this singular reason. But that reasoning is flawed. Leather is an animal hide; within seconds of sitting down, it's as warm as your own skin.
It's softer than many fabrics, too. The Hooker Furniture Aspen Regis sofa is as supple as butter. And with an aniline dye, the colors won't fade out the way that fabric always does. Semi aniline gives you a little more surface protection, and pigmented leather has a tough finish that's great for busy households.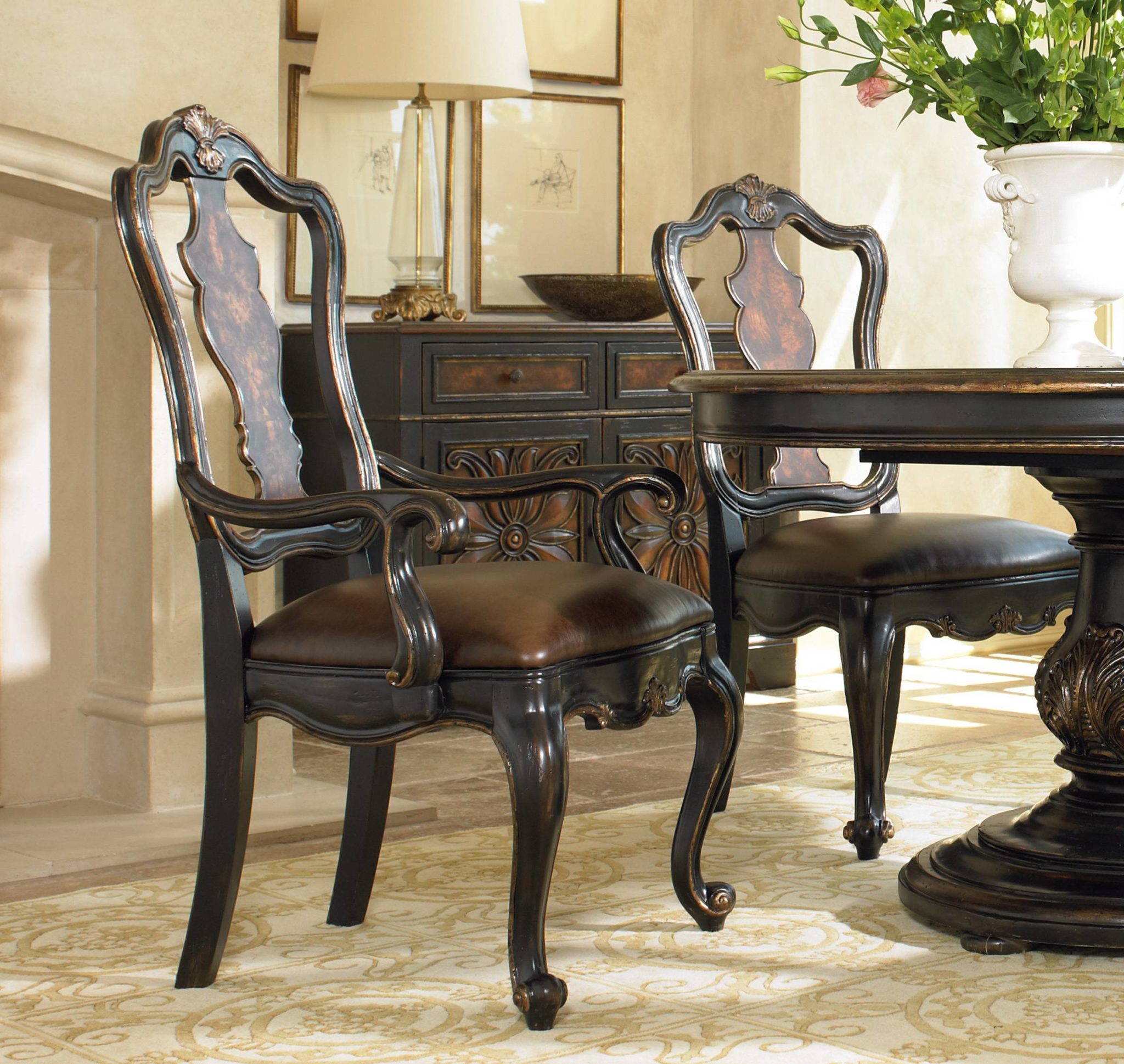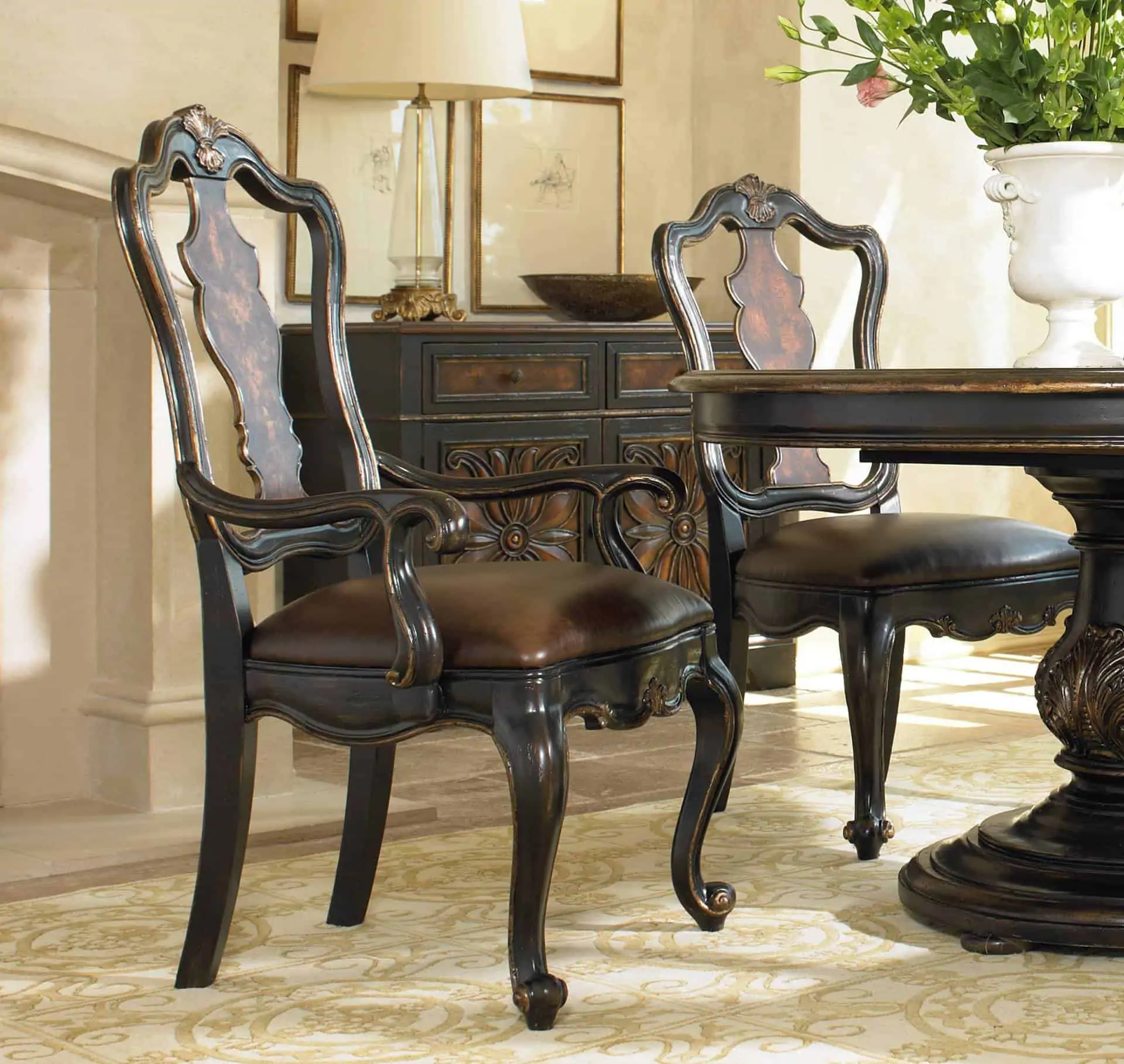 Don't be afraid of leather in the dining room.
#4: It's More Durable than Fabric
All fabrics wear out eventually, often much sooner than you'd like. But leather keeps getting better with age as long as you keep it clean and conditioned. Better Homes and Gardens says to use a high-quality leather conditioner, one that's made for the right type of dye, every 6 – 12 months. The Hooker Furniture Grandover Splatback Arm Chair could dress up your dining room for many years to come.
Ordinary use makes leather more supple, where use can wear out fabric fibers. It's like breaking in a great pair of leather boots. Age also brings out a natural patina that's unique to the hide. That's something you can't get with fabric.
Leather furniture isn't just for homes with no kids and no pets. It's durable, beautiful, and perfect for the busiest households. When you buy and care for good quality leather, it can outlast even the best fabric upholstery. Diffen says that it's not unusual for a leather sofa to last 15 years.