Whether you're expecting family for the holidays, guests coming over for dinner, or just trying to spice up a sterile space, just follow these six simple tips to make your home more inviting for everyone.
1. Bring fresh greenery inside.
Real plants add oxygen to indoor spaces, but their psychological effects are much more obvious and immediate. Arrange fresh, colorful bouquets in the guest bathroom and bedroom, and invest in a miniature herb garden for the kitchen counter. Tall potted plants also add dimension and relaxing green hues to common spaces, such as living rooms and patios.
2. Clean every surface.
Visitors shouldn't have to think twice about putting down their purses, unpacking their overnight bags or going barefoot in your house. Make sure every surface is clean, checking behind doors and furniture for built-up dust or forgotten spills. Your flooring will last longer if it's swept or vacuumed regularly, and your furniture probably comes with specific instructions for dusting, cleaning and maintaining it. To avoid a last-minute scramble every time you play host (and keep your investments in mint condition), just incorporate cleaning into your weekly schedule.
3. Decorate with plenty of color.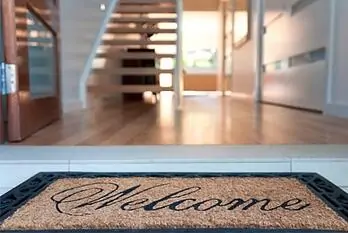 Too much white looks and feels sterile, and too many dark colors can make a room look smaller than it actually is. That doesn't mean you have to fill every room with the contents of the rainbow, but if you're intent on a minimalist, modern style, remember that you don't have to shy away from color. It will actually bring those neutrals to life.
Pops of warm color add happy emotion to otherwise sedated rooms, so try incorporating a few simple but lively accents into each space. A bright yellow accent wall is an invigorating addition to your kitchen or office, and colorful rugs tie together the shades in your blankets, artwork, pillows and other decorative details.
4. Supply soft textiles.
The best furniture for guests is hardy, cozy and easy to clean. The same goes for the linens, rugs, pillows and other textiles you use to complement and complete that furniture. Mix and match different textures and patterns for a warm, playful effect, but don't forget to make sure every piece of fabric is soft and high-quality.
Fit the guest beds with high thread-count sheets, and always offer an assortment of pillows and blankets, because everyone has different temperature and firmness preferences. Put plush, absorbent hand towels in the bathroom and spread soft rugs across hardwood and tile floors.
5. Create pleasant smells.
Instead of covering up pet odors and staleness with artificial fragrances, start by making sure your house is well-ventilated and clean. Open the windows if there's a breeze outside, throw away any old food in the fridge, dust up pet fur, and clean the sheets and blankets that have been on your furniture for weeks or months. Now, you can start arranging flowers, lighting candles, burning incense or oils, and anything else that will infuse your home with a scent that feels warm and fresh.
6. Clear all pathways.
Your furniture shouldn't be too bulky for the room it's in, or arranged so oddly that there's no clear walkway through each space. If you find yourself moving chairs out of the way on a daily basis, it's time to find a new arrangement. Guests should be free to stroll through each space and use every piece of furniture, so make sure nothing is out of (or in) their way.
Sectional or sofa? Find out which one of these affordable furniture pieces is right for your home by reading another one of our blog posts here.