Purchasing new furniture for your home is an important investment. If you're looking for pieces made with careful craftsmanship and integrity, purchasing American-made furniture is the way to go.
In addition to its reputation for durability and artistry, picking out US-made furniture supports small businesses and livelihoods. American furniture also carries unique origins and stories not found in imported pieces. Your purchase will hold up, but also connect you to a greater story altogether.
This Independence Day, you can feel proud to support American-owned and operated businesses when you make your next purchase from an American furniture line. Plus, you'll reap the rewards of shorter shipping lead times on custom items.
Benefits of American-Made Furniture
Investing in American-made furniture comes with some nice perks not found in foreign exports.
Faster Shipping & Delivery
When you purchase furniture online or from an exported retailer, delivery can take weeks—even months. By selecting American furniture that is locally made, you can drastically cut down your wait with speedy shipping and furniture delivery. For certain pieces, you can even pick up your furniture in person like from our furniture showroom in Jacksonville.
Full Assembly & Customization Available
Many American brands offer local items that are already fully assembled, in stock, and ready for delivery. These brands put special care into their craft, which ensures greater quality and offers a chance to snag customizable pieces tailored to your distinct tastes. Hand-crafted furniture is built to last and often passed down through generations—a trademark of locally-made fixtures. Equally important, safety standards for US-made furniture are better regulated than imports, allowing for a comfortable, low-risk purchase.
Featured Brands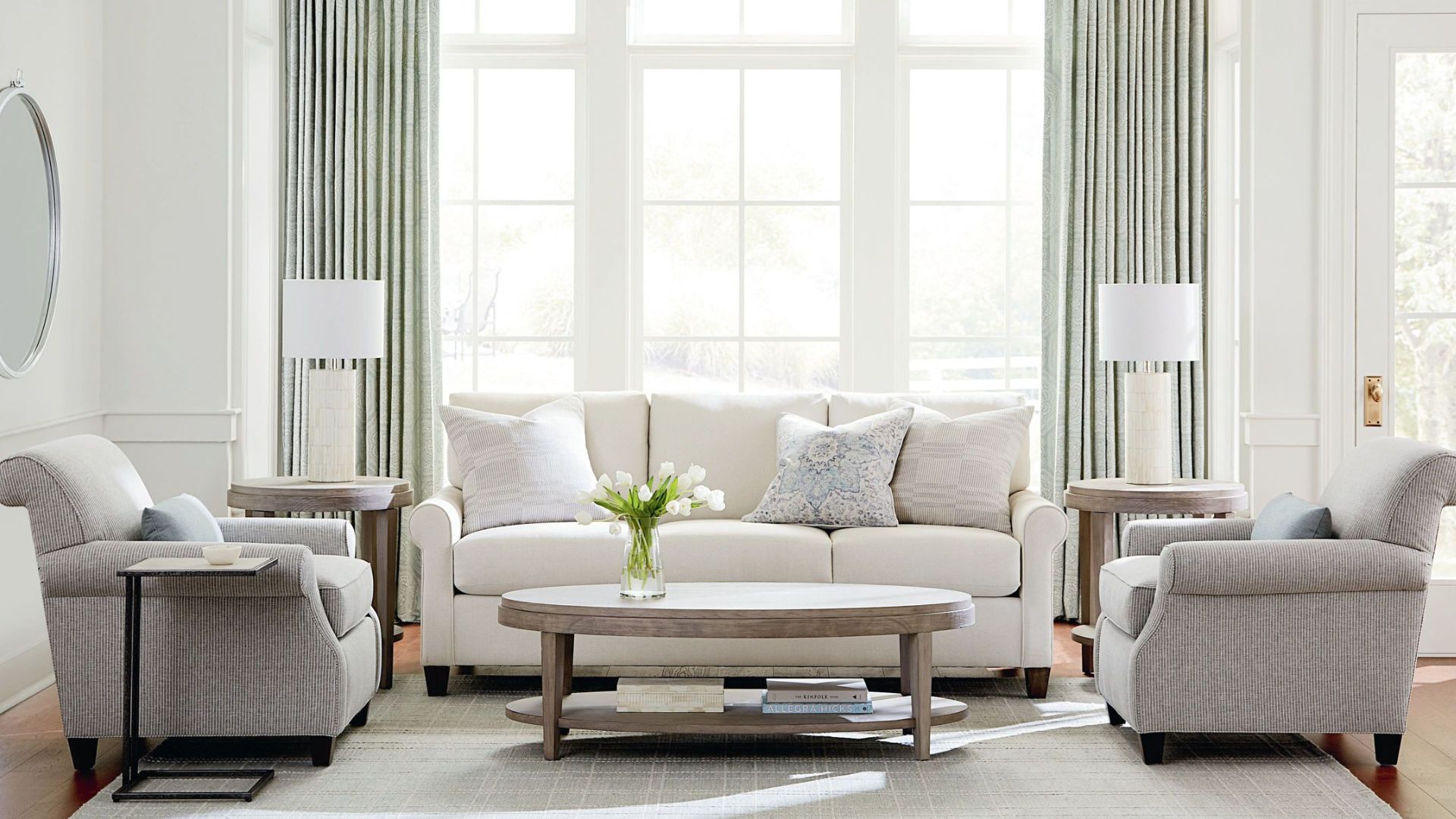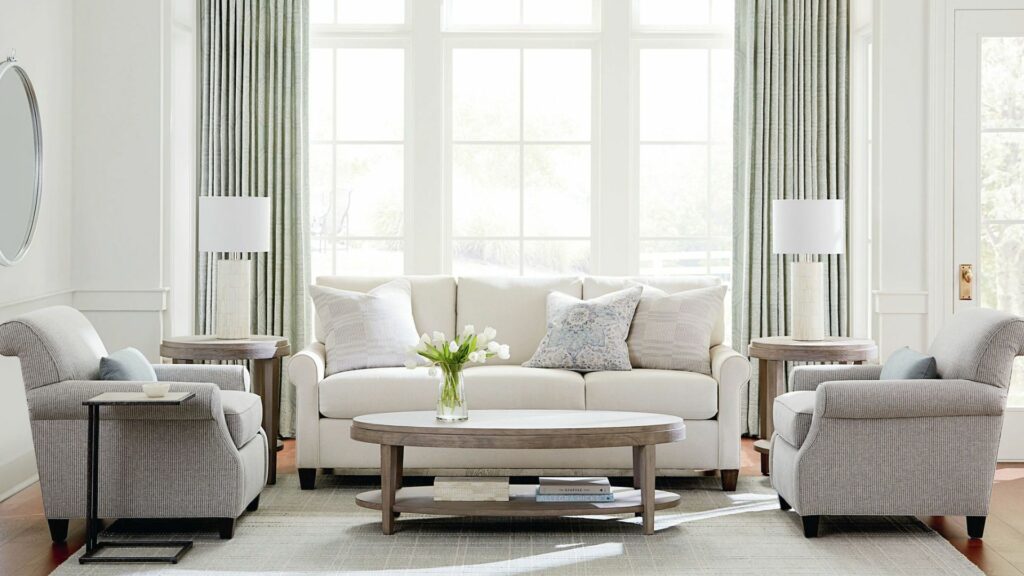 Here at Woodchuck's, we're pleased to offer a premier selection of American-made furniture. Our featured brands include mainstay classics Bassett, Mavin, and Hooker. These brands boast pieces made from high-quality materials, along with a commitment to sustainability and supporting local businesses.
Bassett: From Modest Start to Furniture Empire
Each of these brands started with a spark of the American Dream, and none more so than Bassett Furniture. From the Appalachian foothills in Virginia, Bassett's humble beginnings stem back to the late 19th century, when the company's namesake family ran a sawmill. Once rail lines in the south were completed, the Bassetts began looking for markets to sell their lumber to. Much of their quality lumber was made into finished furniture.
Seeing this as a lucrative business path, the Bassett brothers and a company of 50 workers started Bassett furniture in 1902. Since then, they've grown to be a nationally esteemed brand, joining an American tradition of furniture making.
Mavin's Midwest Crafted Success
Just further north in Amish-country Ohio, Mavin got its start making handcrafted furniture from cherry, oak, walnut, and hickory wood. Mavin's operation, which started with just two men, is now upheld by a three-generation legacy and supplies one of the nation's most popular dining lines.
Hooker's Journey from Barnyard to Brand Name
Hooker Furniture began as a small Virginia-based furniture company nearly 100 years ago. Since then, it has established itself as a leading furniture importer and manufacturer in the US. The brand was founded on values of integrity, caring, listening, innovation, service, responsibility, citizenship, and honesty.
Norwalk's Promise of Sustainability
Norwalk was founded 120 years ago in Toledo, Ohio and carries a long tradition of handcrafting custom upholstery since its founder's arrival from Germany. With its loyal commitment to crafting quality furniture, they focus on creating healthier homes by producing furniture that does not contain any harmful chemicals. Their commitment to creating sustainable products is shown by their American sourced materials and with their American-made manufacturing process
At Woodchuck's, we take pride in the ingenuity and endurance these brands have upheld to create reputable, original US products, and we love looking back on where we came from.
Woodchuck's History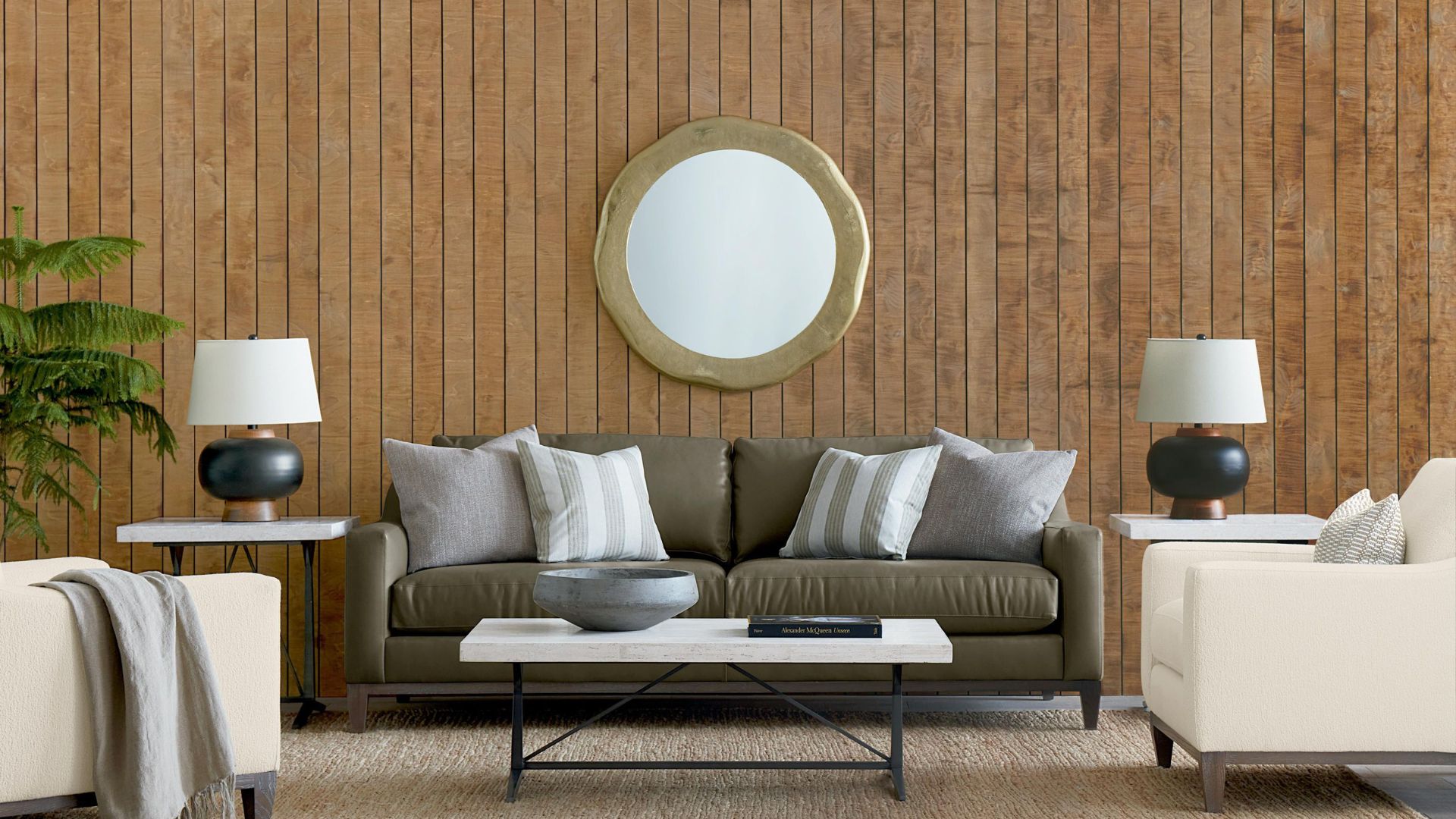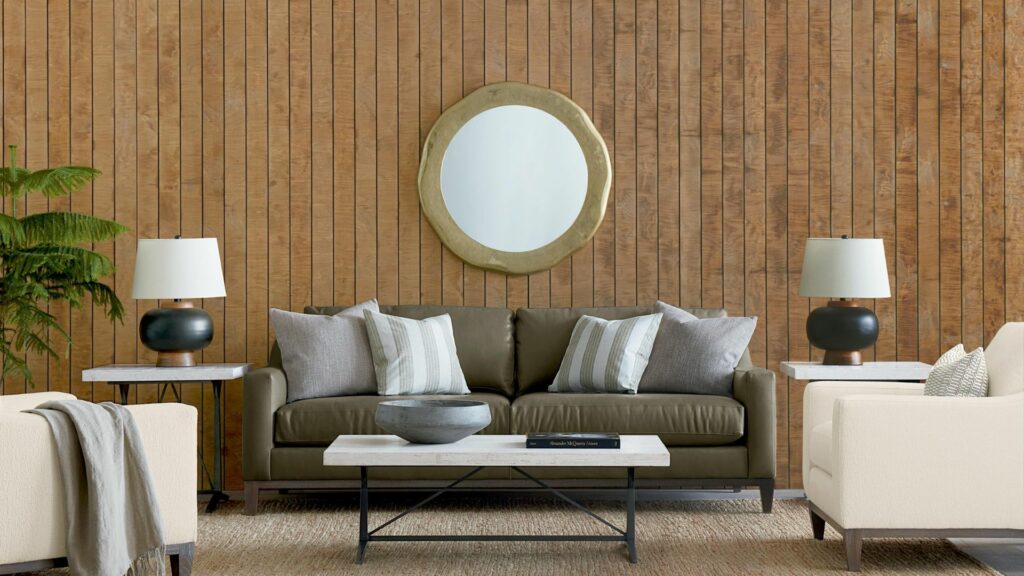 Like so many of the brands we love, Woodchuck's has its own American origin story. Our roots trace to small-town Orange Park over 40 years ago. Since then, we have expanded to become the premier furniture store in Jacksonville. Veteran-founded and owned, we have served our country and our customers with pride and dedication for decades.
To ring in Independence Day, we are offering up some fireworks of our own with our annual Independence Day Sale. Our showroom in Jacksonville will feature unrivaled deals on American-made brands, including those listed above and more. Our knowledgeable associates will be on hand to help make your home's vision more red, white, and you.
Shop Woodchuck's Independence Day Sale
Whether you're looking for a room makeover or adding a subtle change to your home, you can't go wrong with American-made furniture. With custom craftsmanship that stands the test of time, your space will be ready to relax—or entertain—for years to come.
Our Independence Day Sale won't last long, and neither will these gorgeous, local, and reliable pieces. Be sure to check out Woodchuck's Fine Furniture showroom and bring home a piece that you'll love.