The Biggest Bed Possible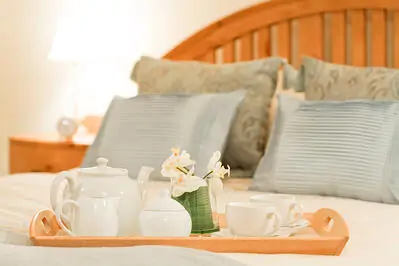 The best furniture for guests starts with the bed. Unless you plan on hosting college kids, ditch the twin beds and upgrade to at least a Queen bed and mattress if possible. Being a houseguest, believe it or not, is stressful and the thought of sleeping in a tiny bed adds even more stress during their stay. If a Queen is absolutely too big, a full-sized bed is also an option.
A Nightstand and Lamp
A place to rest a bottle of water, a cell phone, glasses, and other important items is an absolute necessity. Staying in a different house can be disorienting and it's comforting to have everything within reach of the bed instead of across the room or on the floor. Whenever possible try to position the nightstand near an outlet for easy phone charging while your guest is sleeping and for powering a lamp so he/she can read before bed.
A Dresser
While some guests will inevitably keep their clothes in a suitcase, most prefer to unpack and put items in a dresser to keep them organized, neat, and clean. A dresser is a good resting spot for personal grooming items, makeup, and jewelry…not to mention an obvious place for a TV or other source of entertainment. Unlike the bed, the dresser should NOT be as big as possible. A modestly-sized dresser should be more than adequate.
A Mirror
Imagine trying to get dressed in the morning without a mirror. Access to a private mirror (other than in the bathroom) is very important when it comes to grooming and makeup for your guests. If possible, include a full-length mirror as well as a mirror over the dresser to help make the room feel larger as well
A Chair
A comfortable chair in a guest room is often an afterthought either because of size limitations or a simple lack of an extra chair, but it's a nice and much appreciated touch. At times, your guest may need a little privacy and the ability to retire to their guest room to sit in peace for a few moments is invaluable…plus he/she needs a place to put on socks and shoes.
Additional Suggested Guest Room Items:
Luggage Rack
Drinking Water/ Snacks
Extra Toiletries
Extra blankets and Pillows
Clean Towels
Trash Can
Tissues
Get Tips for rearranging furniture in your home or start shopping for new guest bedroom furniture delivered to your home in less than 30 days – Just click here