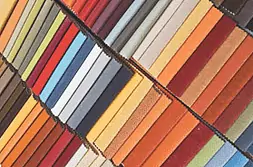 Woodchuck's design studio presents fine furnishings from leading manufacturers, including Bassett and Flexsteel, that offer lines of customized furniture including:
Sofas
Sectionals
Loveseats
Chairs
Benches
Beds
How The Woodchuck's Customization Process Works
Woodchuck's provides their customers with an easy way to create their own unique furnishings by allowing them to select from the myriad of customized furniture options available for the particular type of furnishing chosen.
The customized furniture process begins with selecting the type of furnishing that is desired. If a customer desires a sofa, they would determine what size would best suit their needs. This step of the process can be assisted with the Woodchuck's online Room Planner. This tool allows users to create an accurate room layout according to the dimensions and features that are present in the room where the sofa will be placed and help determine the best size for the room.
For example, Bassett sofas are available in the following sizes:
Small: 77 to 81 inches in length with a depth of 39 inches
Medium: 84 to 88 inches in length with a depth of 37 inches
Large: 82 to 92 inches in length with a depth of 38 inches
Extra Large: 87 to 95 inches in length with a depth of 40 inches
The next step would be for the customer to choose what seating options they want from several available options, including:
Sofa/Sleeper
Loveseat/Twin-Sized Sleeper
Sectionals
Chairs
Ottomans
With the sofa being fully customizable, additional options including arm styles, base options and back styles will then need to be selected. A selection of comfort levels, including standard, extra firm, blend down and spring down are available to build the customer's perfect sofa that will provide them with the comfort they desire.
Once the style of the sofa has been configured, the next step is for the customer to select the type of fabric to be used. Both Bassett and Flexsteel offer over 1,000 different fabric choices in which to choose from including leather. With this many choices of fabric, furniture shoppers are sure to find a fabric that will suit their décor color scheme. The fabric for any pillows that are included with the sofa will also need to be selected during this step of the customization process.
To finish off the sofa customization process, the customer will then select the contrasting welt and wood finish for the sofa. Additional design flairs for the pillows such as fringe or cords are also available for customization. Once this step is complete, the customer can add the sofa to the Room Planner and email it to their interior designer or print a copy to bring to the Woodchuck's showroom.
Why Customers Should Consider Customization
By customizing their own furniture, customers can create a piece of furniture that is uniquely their own. In many cases, the designed piece is a one of a kind that reflects the customer's personal tastes and will directly fit into their lifestyle. No longer are they limited to modifying their preferences and design vision to what someone else's ideal piece of furniture may be.
One might think that the customization process results in a longer wait for their furniture but in most cases, the customer will have their finished product within 35 days or less of order submission. This is often comparable to the delivery time of furniture that is not normally in stock at Woodchuck's onsite warehouse.
Considering the Possibilities of Customization
Choosing customized furniture allows the customer to design their own furniture without having to settle for a piece of furnishing in which they are not completely satisfied. If a customer can dream it, it can be built by the furniture manufacturer to their complete specifications with the design tools provided by Woodchuck's. Instead of altering existing designs or having to deal with furniture that is not quite the right size, the customer can be satisfied with their buying choice for years to come.
Come discover the possibilities of furniture customization at Woodchuck's Fine Furniture & Décor and turn your Jacksonville home into the home of your dreams. Our design consultants can assist with you with finding or customizing the right piece of furniture you are looking for without the stress and hassle that purchasing furniture often brings.