As a local family-owned and operated business, Woodchuck's Furniture has served the Jacksonville community for over 30 years. From our enthusiastic non-commissioned sales staff and design consultants to our white-glove delivery staff, our team works hard to ensure our customers have an enjoyable experience in our showroom and love their furniture for generations. Learn more about the Woodchuck's Furniture team.
Doug Correia, President
My name is Doug Correia and I am the President at Woodchuck's Fine Furniture & Decor. March 2022 marks my 30th year as a part of the Woodchuck's family. I am the Woodchuck's version of Sir Francis Drake (Captain of the Ship), kissing frogs & turning over flat rocks (Product Development and Sourcing), and anything else that needs to be done in a day's work.
I am a second-generation Woodchuck. My father founded Woodchucks as a way to feed his family and keep a roof over our heads. Our humble beginning in antique restoration and upholstery laid the foundation of knowledge and experience that would prove helpful in our venture into quality retail home furnishings. My experience through college with the USN and one of the largest logistics companies in the world also prepared me for a start in the global supply chain of furniture.
In my spare time, I enjoy spending time with my wife of almost 27 years, Tara, and our two children: Ashton, a junior at FSU, and Lauren, a senior at St John's Country Day School. I also enjoy spending time with friends at the beach, water sports like surfing, and any other outdoor activity.
"My favorite part about Woodchucks comes down to one thing: PEOPLE.  I love the people on our team here at Woodchuck's. We have built lifelong friendships with the people who supply our quality products and we have had the pleasure of getting to know our customers. We appreciate them for the amazing people they are to their families and in the community. There are so many people we have had the privilege of serving, many of which we have had the pleasure of doing business with multiple generations of their families. What an honor it is to do business with our employees, suppliers, and customers."
Uriel Castro, Floor Manager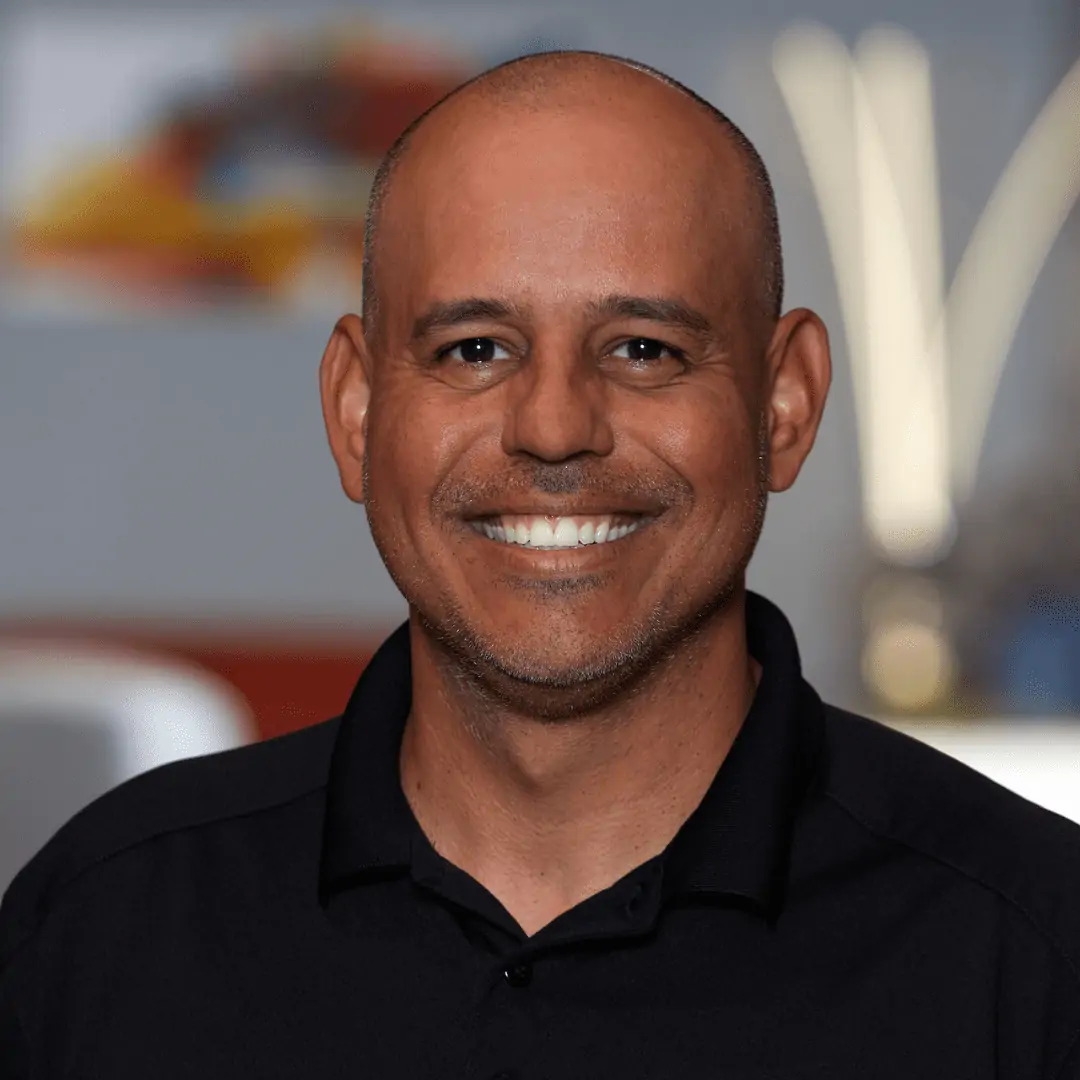 I am Uriel Castro, the Floor Manager at Woodchuck's for two and a half years now. I really see myself as a jack-of-all-trades with emphasis on providing our sales staff the support they need to do their job to the best of their ability. I also focus on maintaining great customer service standards since it is one of the primary characteristics that keeps Woodchuck's a step above the competition.
I have 25 years of leadership and customer service experience. I spent most of my career leading and pioneering non-profit work in many countries around the world. Just before joining Woodchuck's, I had the privilege of working for Marriott for 10 years, a company well known for its strong customer service. After meeting Doug through a leadership networking event in 2017, I felt that our paths would eventually cross again and we might even end up working together. In 2019, I met with Doug again and after hearing his vision for Woodchuck's and his heart to serve, I was sold and came on board in June of 2019.
In my free time, I enjoy spending time with my wife Michelle and daughter Chloe. I also enjoy running and traveling when time permits.
"My favorite thing about working for Woodchuck's is the amazing team I get to work with. I also love the leadership team's heart to serve and to do whatever it takes to make sure our employees and customers feel well taken care of."
Tara Correia, CFO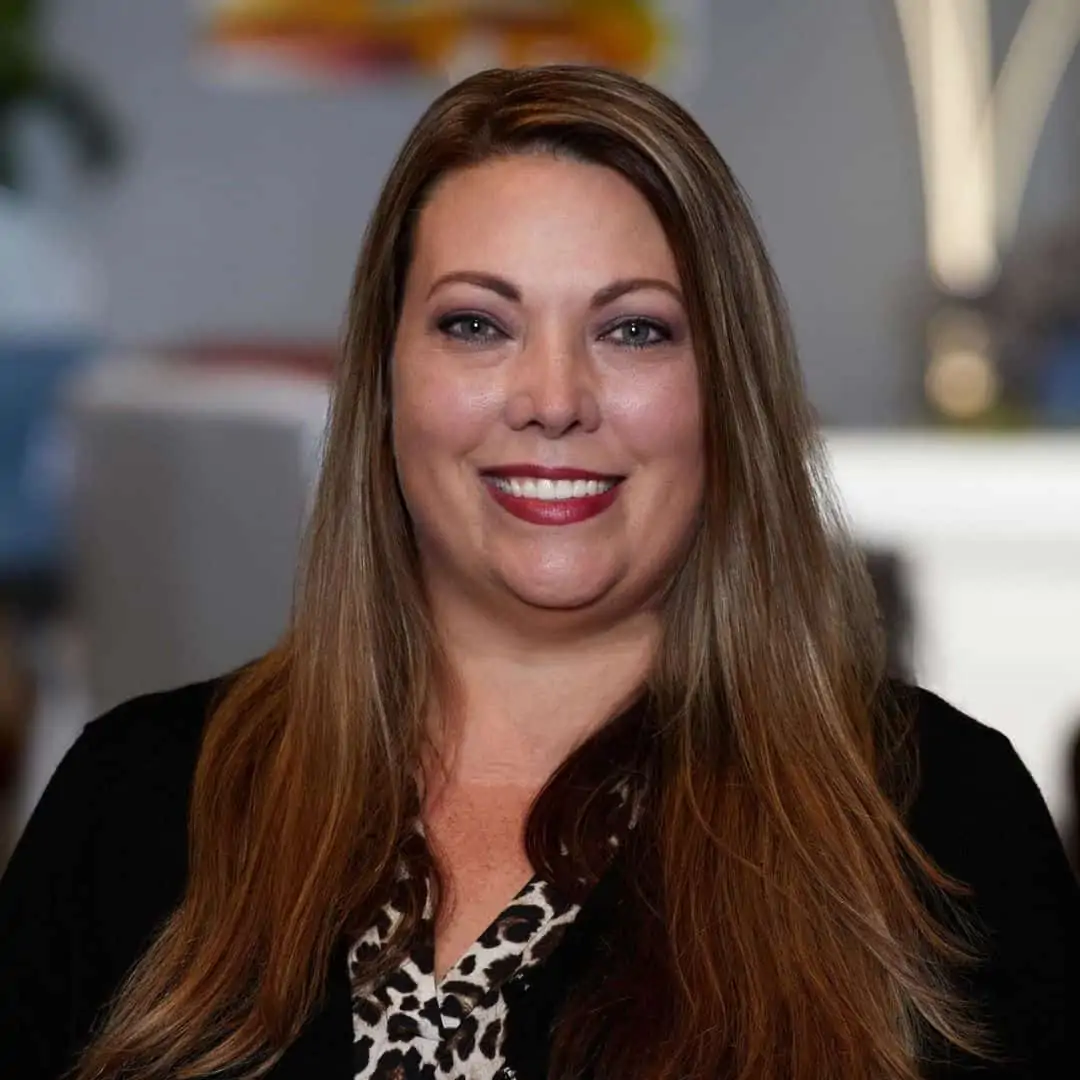 My name is Tara and I am the CFO for Woodchuck's Furniture. I have had the honor of serving the Woodchuck's family for 22 years. In short, my job is to make sure employees are always well taken care of and paid on time.
I worked in administration in the dental field for a few years before deciding to come work with my high school sweetheart at Woodchuck's. From then on, I never looked back.
When I'm not at Woodchuck's, I enjoy the beach and spending time with my family and the cutest pup ever, Stella.
"I love our Woodchuck's family as well as the opportunity to work with my husband. I have been able to bring my children with me when needed, which was a huge help especially when they were babies. My son, now 21, continues to help when home from college."
Sherry Early, Sales Consultant
My name is Sherry Early and I started as Sales Consultant at Woodchuck's at the end of 2021. I work in sales, design, and anything else that needs to be done in the showroom and in the field. Previously, I worked for Yellow Page in advertising management, consulting, design, and sales. Then, I relocated to Florida from South Carolina and started my journey in the furniture industry. I was referred by my previous sales manager to Woodchuck's as a sales consultant and I absolutely love it.
During my free time, I enjoy spending time with family and friends, traveling, dining out, and hiking.
"I smile every time I see my clients happy with the choices I have provided them in design and furniture selection. It is always nice to follow up with them after completion of their project and receive a referral."
Scott Taylor, Sales Consultant
I am Scott Taylor, a Sales Consultant at Woodchuck's Furniture. I am on my second tour of duty with a total of four and a half years with Woodchuck's Furniture. In my day-to-day, I work with customers to satisfy their furniture needs. I perform in-home visits to help with space planning, product considerations, and fabric/leather/color choices. I also assist in visual merchandising on the showroom floor.
My career in furniture started in 2008 and before furniture, I spent over 25 years in graphic design, printing, and photography. I took a break from furniture for a while and worked in culinary education but, furniture still calls to me and that is why I am back at Woodchuck's Furniture.
Living in Florida, the beach is always a good place to hang out when not at Woodchuck's. I am also an active runner that participates in running events in and around Jacksonville, FL.
"My favorite part about working for Woodchuck's is my awesome team that makes coming to work a pleasure."
Brandie Peterson, Sales
I have worked at Woodchuck's for four years. I help my customers make their homes cozy by getting to know them and their needs. Prior to Woodchuck's, I was a contractor at Cecil Field. When my company suffered a layoff, a dear friend of mine brought me to Woodchuck's. In my free time, I love being with my family and finding new places in the area to explore. My favorite part about working for Woodchuck's is the friendly team of co-workers I get to work with as well as several of our customers. Woodchuck's attracts happy and enjoyable people.
Sheryl Woodson, Interior Design Consultant
I'm Sheryl Woodson, an Interior Design Consultant at Woodchuck's. I have enjoyed working here for over 16 years. My days consist of helping our customers plan their rooms and make fabric and color choices that best meet their needs. I also work with the team to keep our store in top shape, making floor moves, or adding accessories to complement each vignette.
I have been in retail sales the majority of my career and was blessed to come to work here. I feel like our customers appreciate the family-owned business atmosphere and the service-oriented team we incorporate. Our showroom is always blossoming with fresh ideas and decor.
I spend my free time with my family and friends. I have six grandkids, five great-grandkids, and one new puppy!
"My favorite part about working for Woodchuck's is the warm, welcoming, and exciting atmosphere. Woodchuck's is like home and there is always something to do. I take pride in making it the very best place to shop for furniture."
Bob Tier, Sales Associate
I have worked at Woodchuck's for 18 months now. At Woodchuck's, I solve problems. My background is in Entertainment. I enjoy being around people and having fun. I heard about Woodchuck's family atmosphere and that was the major attraction to coming here to work. Prior to working here, I was a Woodchucks customer. In my free time, I enjoy spending time with family and dogs at the beach. We also love going to Disney and traveling. My favorite part of working for Woodchuck's is the people, both those I work with behind the counter and on those on the floor.
Suzanne Grillot, Sales Consultant
My name is Suzanne Grilliot, a Sales Consultant for Woodchuck's Furniture. I have worked here for 7 months, taking great care of customers and assisting them with furniture and home decor purchases, either in-person or over the phone. I also work with other sales staff here at Woodchuck's to keep our showroom floor looking awesome.
I have a background in design and sales but I have wanted to work at Woodchuck's since I came to Florida with my family on vacation. At that time, a family member had recommended I come in to experience the store. He said I would love it and he was right! I was hooked from the moment I walked in.
Some of my favorite activities are spending time with my family, going to the beach or the mountains, and decorating our new Florida home.
"In addition to being surrounded by beautiful decor every day, my favorite part of working here is all the wonderful people I am blessed to work with day-in and day-out.  We are a family and all contribute to a friendly, light-hearted, and relaxed atmosphere."
Cathy Collins, Interior Design Consultant
I am Cathy Collins and I am thrilled to have worked at Woodchuck's for 16 years as an Interior Design Consultant. My day-to-day responsibilities include finding my clients the right furniture or fabrics to make their dream home a reality. I also decorate table tops and help with visual merchandising for the store.
I worked at Maron's Furniture for 7 years before coming to Woodchuck's and just loved working with furniture and especially fabrics.
I enjoy my free time with my two wonderful granddaughters.
"The people I work with are just great. Woodchuck's is a wonderful place to work."
Hannah Allen, Sales and Design
My name is Hannah Allen and I have worked in Sales and Design at Woodchuck's for a year. My job entails educating customers on the manufacturers we carry, working with them to see what will work for their space. I listen to their needs and select the product and manufacturer that will compliment them best. I always do my best to make their dream a reality. I view every customer interaction as an opportunity to build a lasting relationship, not just make a sale.
The atmosphere at Woodchuck's led me to want to work here. When you walk through our showroom doors, it is so easy to feel the love we have for one another. Each of us genuinely cares about our customers and continued business success.
In my free time I love to shop, go to the beach, and build or refurbish furniture to make it updated and unique.
"My favorite part about working for Woodchuck's is knowing that I have a team who supports me, makes me a better person in life, and pushes me to be my best at work."
Stop by Woodchuck's Furniture showroom today to meet our incredible staff and find the furniture of your dreams.