Dark and Dramatic Duo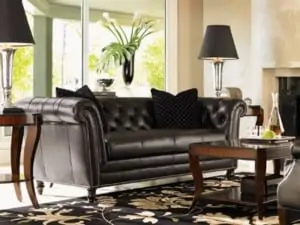 This black leather sofa has all the classic curves and buttons that you'd expect from an elegant leather couch, but a balance of black and white really transforms the piece into an art deco statement. Pair black leather with dark wood to create a bold monotone look like this against white walls and floors, and make sure black dominates the lampshades, vases, pillows, and rug for added effect.
Subdued Earth Hues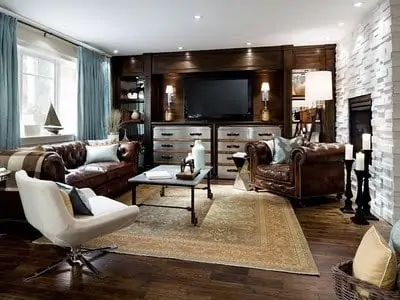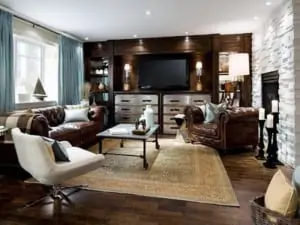 This rich, warm living room revolves around the deep brown leather seats that face the center and frame the focal point of the room. Muted blue-green curtains complement the rich browns of the leather, wood flooring, and floor-to-ceiling shelves, and the white brick accent wall on the opposite side achieves soothing symmetry with the window they frame.
Cozy and Classic

Who says you have to stick to one leather couch? An oversize chair and a matching couch and loveseat pair are the comfy trinity at the heart of this room, and they're so deep and dark that the rest of the room only needs simple, neutral furnishings to feel like home.
Sophisticated Corner Space

Sectional sofas make it easy to define smaller spaces within larger rooms, but they also make small rooms feel cozier and classier with the deceptive combination of low backs and wide, deep seats. This leather sectional seats a family of six with ease, and the matching leather ottoman completes the shape while echoing the details that make the couch so special.
Throwback in Leather and Suede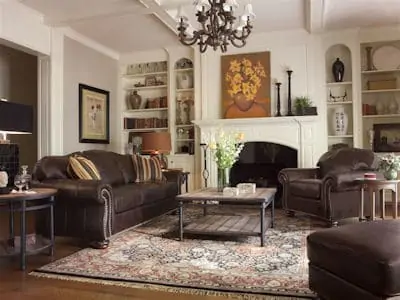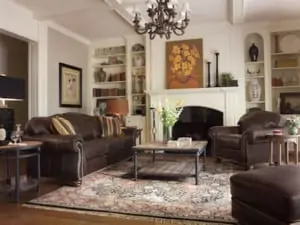 Sometimes it's okay to embrace the past instead of trying to keep up with new trends. In fact, some homes practically demand it. Well-preserved architectural details, such as built-in shelves and vaulted, recessed ceilings, make this living room a true throwback to the heydays of hospitality, and the couches complete the effect. A combination of leather and suede makes the leather furniture set look timeless while matching the textures and colors from different decades throughout the room.
Simple Green Life

Big windows and matching double doors dominate the wall space in this apartment, but a splash of green paint is enough to set the stage for warm, rich earth tones in the floor and furniture. Light browns provide a neutral backdrop in the hardwood flooring, but the tables, rug, and fixtures make way for the dramatic dark brown of this reclining leather furniture set. Lean back and enjoy the views in this simple, well-planned space.
L-Shaped Sun Room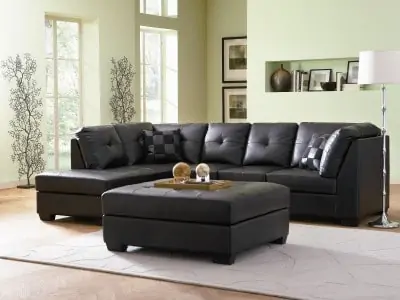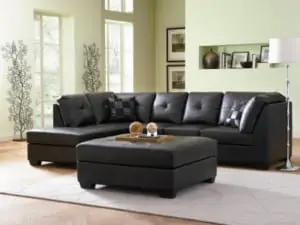 If your living room has multiple sections, windows, and dimensions, consider a leather sofa with a low back and an unconventional shape. This L-shaped leather sectional is easy to rearrange to suit this versatile space, and plenty of windows and light green paint provide the neutral color scheme that allows its deep, dark black leather to shine.
Grand Greeting for Guests

Deep brown leather and intricate carved wood make a perfect pair, and this three-piece furniture set makes the most of this luxurious combination by repeating the same rich curves along the legs, arms, and back of each piece. Warm golden curtains and blonde wood floors prevent the dark leather from swallowing up all the light in the room.
Comfortable Curves and Angles

Rounded edges dominate this living room visually, from the arched entryway and windows to the curved arms of the leather sofas and the sweeping circles of the rectangular rug beneath them. We're glad that the couches are still angular enough to contrast with all the curves, and that the coffee table brings together these angles and curves too, along with the light and dark colors of the furniture and floors.
Laid Back Outdoor Views

Reclining leather furniture is a great way to make the most of your scenic views. In a living room with more than one focal point, make sure every piece of leather furniture is angled to enjoy at least one of them.
Other furniture stores may unload subpar pieces, but our leather furniture is always top-quality and comes with a satisfaction guarantee. Browse our showroom today to try out our leather sofas, recliners, and other versatile living room furniture.
Next time you shop for furniture make sure you're making the right choices by downloading our '8 MIstakes To Avoid' eBook.