Ideally, every room in your Florida home should be functional and inviting, easy to maintain and easy on the eye. If you're short on inspiration, it would make sense to invest in the services of an interior design expert. Fortunately, as a Woodchuck's customer, you won't have to. If you take advantage of our free in-home design consultation, you'll reap the following rewards.
1. Order
If you have trouble keeping everything in its proper place, maybe you just need a designer to optimize your household organization. Of course, their work totally depends on your tastes and choices. Maybe your mail and paperwork wouldn't get scattered if you sectioned off your desk with sliding doors or curtains. Maybe your kitchen drawers wouldn't overflow if you took advantage of vertical storage space and installed extra shelves.
2. Safety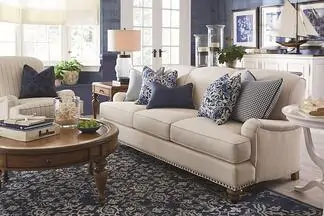 Your home should affect your well-being for the better, not introduce extra risks. Your designer will learnabout all the members of your household, including their allergies, ages and ability levels, in order to determine the safest furniture heights and angles, upholstery materials, installation techniques and more.
3. Efficiency
With the right décor and furniture choices, your property value and quality of life will both begin to rise.However, it's not just about looks. Half of the equation is making your rooms more efficient, and our interior designers are trained to do just that. We'll help you create clear pathways through each space, position your furniture at angles that facilitate interaction, and make sure your furniture and lighting choices are conducive to entertaining or unwinding. If you have appliances, hobbies or collections that need a space of their own, we'll incorporate them as seamlessly as possible.
4. Personalization
Even if there isn't enough square footage to give each spouse their own office and each kid a separate bedroom, you can still create individual spaces within larger rooms. Your designer will help you tailor yourdesign schemes and furniture layouts to make every member of the family feel included and accommodated.
5. Peace
You probably want a relaxing bedroom and a comfortable living room, but unless you're a design expert, you don't know all the tips and visual tricks that will work to bring peace to each specific space. For example, which exact paint shades will foster a sense of relaxation on your family room wall? Which colors and texture should dominate the upholstery in your dining room, to make the furniture feel warm and inviting?
Your interior design consultant will figure out how to arrange furniture, contrast colors and balance different shapes to make your home as peaceful as possible.
Obviously, there are more than five reasons to put us in charge of your interior design in Jacksonville. Our talented designers give your home character, save you the time and energy of curating your own custom furniture collection, and catch details you'd miss. They also care about the finished product as much as you do, so they'll work hard to capture your unique tastes.