The question is, when should you update your furniture and which pieces should you upgrade?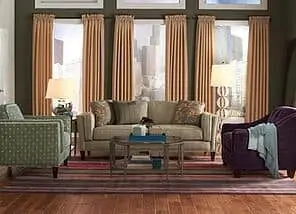 Here's a quick room-by-room guide to help you update your home, including:
important factors you should keep in mind while looking for new furniture
the key piece of furniture for each room that you should plan around
tips for how you can make sure that your new furniture is as practical for your lifestyle as it is attractive for your home.
Living Room Furniture
In most homes, your living room is what provides the first impression about your home for your guests. It's a room intended for entertainment and conversations so the furniture you choose to adorn it with should be both comfortable and attractive.
Key piece of furniture: Sofa
Not only is your sofa the biggest and most prominent piece of furniture in your living room, it's also the piece that will be seeing the most use, which means it will be subjected to a lot of wear-and-tear. Choosing a quality sofa is extremely important, especially because the average lifespan estimated for sofas is 10-15 years. Depending on how much use and abuse your sofa sees and how well you take care of it, it will be around for a while.
Factors to consider:
If you have children, make sure you choose a kid-friendly coffee table. It should be sturdy enough to survive climbing and sitting, well-balanced so it doesn't topple easily, and have rounded edges rather than sharp.
Recliners don't all look like recliners anymore. If you have an over-sized chair that looks like it belongs in your grandfather's house and you're trying to go for a more modern look, upgrading to a newer style can provide you with all the reclining comfort while fitting in with the rest of your sleek decorating.
If you entertain frequently, plan your furniture arrangements accordingly to provide ample seating for your guests.
Kids wear furniture down faster. If you have children, opt for sturdy frames and hardy stain-resistant upholstery. Also, avoid delicate materials and designs in any rooms your kids will be spending time in.
It might be time to upgrade your entertainment center if it isn't practical for your media needs anymore. Most of the older entertainment centers tend to have unused space with most of today's smaller and sleeker electronics, so an upgrade can provide you with a better organized and simplified look.
Kitchen and Dining Room Furniture
Your kitchen is the heart of your home, and many homes have a shared space for the kitchen and dining room, so it's important to have a good flow between the two areas.
Key piece of furniture: Dining table and chairs
Your dining table and chairs will likely be used for at least one meal a day. Add that to the fact that many people tend to use their dining tables for much more than dining and your table will be seeing a lot of use from an impromptu kitchen prep counter to a temporary work spot. Your dining table should reflect your entertaining style as well as your decor.
Factors to consider:
Adding a bar is a fantastic way to contribute to a relaxed atmosphere for entertaining.
Consider adding cabinets if you have extra space in your dining area to hold kitchen items you only need to use every now and then.
A few good stools can turn any counter space into extra room for casual dining.
Bedroom Furniture
Your bedroom is your personal sanctuary, where you go to relax and sleep after a long day. Your furniture has to reflect the theme of your bedroom.
Key piece of furniture: Bed and mattress
A quality bed and mattress is important for more than just your decorating, it's important for your health. Above all, your bed needs to be comfortable and big enough for you to sleep comfortably.
Factors to consider:
Bedside tables don't need to match, but they should reflect your unique personality. Just make sure that they also provide for your practical needs in addition to looking nice.
If your bedding is fading or thinning, replace it. A new bed doesn't look as nice when it's covered with a threadbare comforter. Don't overlook the smaller aspects of your bedroom, because they can have a big impact on your comfort.
A comfortable bench at the foot of your bed can provide additional storage underneath, and a place to sit while keeping the bed neat.
Personalizing Your Home
Your home should always feel like home and reflect your personal style.
The most important thing to remember when you update your home is to think about how each piece of furniture makes you feel.
No matter what your furniture budget looks like, updating your home furnishings doesn't have to be a hassle. You can start by using our Room Planner to figure out what items of furniture you need and where to place them, then make a list prioritizing new additions and needed upgrades.
Furniture should fit your lifestyle, so if you have an old favorite that you can't bear to part with, update it's finish or upholstery to incorporate it into your design.
If you have trouble finding that perfect piece of furniture, consider using our Design Center to build your own custom furniture.
If you'd like to update your home soon, you can subscribe to our VIP Club Newsletter to stay up to date. Our family owned business has been helping Florida homeowners find the perfect furnishings for over 30 years and we work with over 100 vendors to provide the best selection of quality furniture possible.