Create Space Using Color
One of the most powerful tools at your disposal when it comes to room design is paint. Painting your room in light colors makes a dramatic difference. Keeping things dark will only close the space off, whereas light colors expand.
In addition to lightening up the walls, don't forget the floor. Adding home accents such as a light-colored rug can make a difference, as well.
Less Is More
Another good rule of thumb is to keep furnishings minimal. The fewer pieces of furniture you have, the more room you have and the more spacious your room feels. Take out the nightstand and lamp combo and opt for a sleek floor lamp or hanging lamp that frees up valuable floor space.
Home Accent Ideas To Create The Illusion Of Space
One decorative home accent that can open up your room is a wall mirror. This is one of the most effective ways to give the illusion of a larger space. Hang a mirror opposite a window to add more light and reflect your pretty view.
Add Smart Storage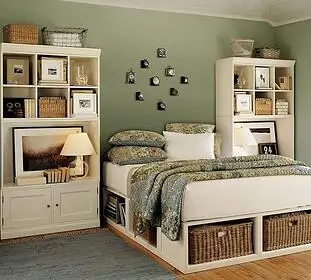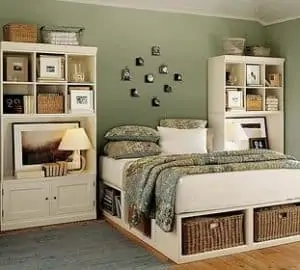 Maximizing storage is key to managing a smaller space. Under-bed storage, vertical storage and maximizing closets through organization can help. Shelves are great, but take care that they don't overwhelm the room.
Empty Space Is Important
Yes, you need lots of storage and room for your stuff, but don't give into the temptation of using every available inch of space. The key to really making a small room appear larger is to allow for empty space. If every available nook, corner and cranny is packed with stuff, if every wall is filled with shelves, things are going to feel cramped. Give yourself some breathing room.
Use these tips next time you decide to redecorate, or if your bedroom needs a touch-up. You'll be surprised with how far small changes can take you!
Need style inspiration, ideas or tips? Download our MODA Style Guide, filled with room scenes and styles you can incorporate into your home. Click the image below to get your copy!