Christmas is just around the corner, which means it's time to start putting up holiday décor in your home. While putting wreaths on the doors and hanging lights outside are classic holiday decorating tips, one part of your house that you might not have thought of decorating is your staircase. Check out our ideas for the must-have home décor for your staircase.
1. Green and Gold Banisters
Evergreen banisters are the base of any Christmas staircase decoration. If you want to keep it simple, wrap a swath of greenery around the banisters and lace it with a thin golden beaded garland to create a festive accent.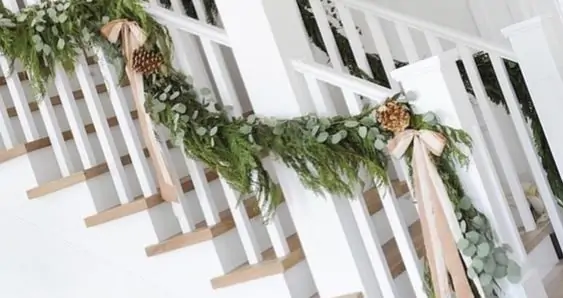 2. Bows with Baubles
The bow is a Christmas classic, bringing to mind presents under the tree on Christmas morning. You can tie bows around the balusters or at the ends of the railings. If you've draped greenery over the banisters, you can create eye-popping contrast by placing red bows at equal intervals. Use bows with baubles to add character.

3. Stockings on the Stairs
Who says stockings have to hang above the fireplace? Hang a row of stockings from your staircase railing to change things up. The stockings don't all have to be red and green, either. Black and white stockings with snowflake motifs interspersed with red and green stockings make a great look.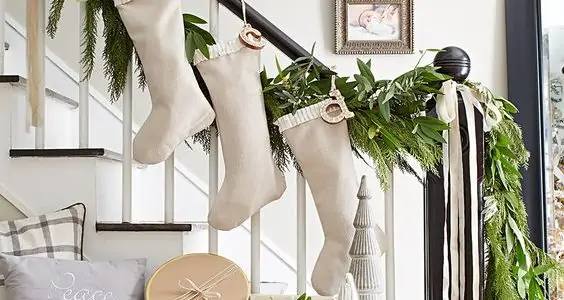 4. Christmas Mugs

If stockings are too standard for you, add a unique twist by hanging Christmas mugs from the staircase railing instead. Use a Christmas colored ribbon to hang the mugs, and fill the mugs with Christmas treats like candy canes and hot cocoa packets for some fun and tasty décor.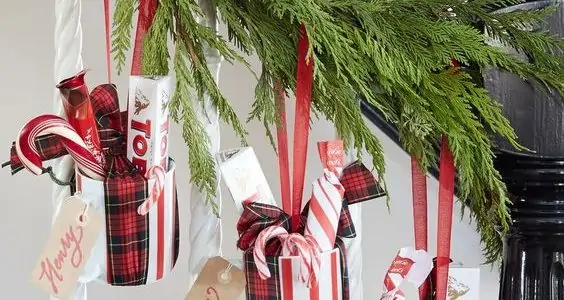 5. Candlelight Décor
Set candles at the edge of each stair to evoke a romantic atmosphere that brings to mind cozy nights by the fireplace. Use candles with Christmas scents like peppermint or gingerbread. If you don't want to use real candles, battery-operated candles can create the same atmosphere.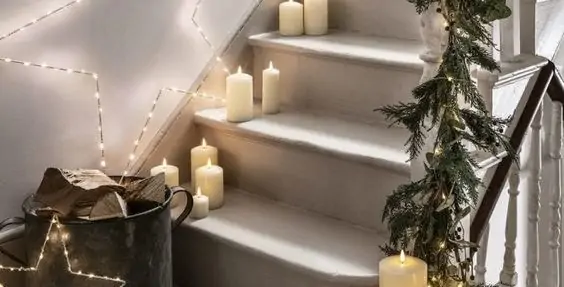 6. Marquee Letters
Marquee light-up letters can help create the same romantic atmosphere as candles, but with the added bonus of spelling out a word. Choose red, green, or gold letters with yellow lights and place one letter at the end of each stair. Some words you can spell out are "Ho ho ho," "Merry Christmas," or "Let it snow." Depending on how many stairs you have, you have a lot of words to choose from.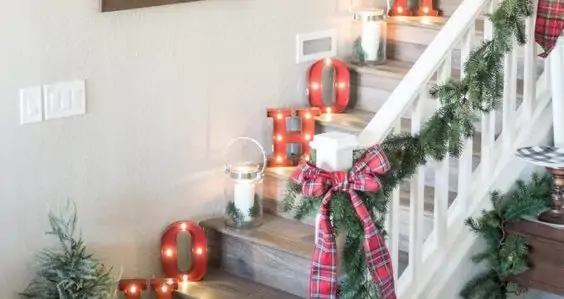 7. Green and White Decorations
Snow is an essential theme in any Christmas décor. To create a snowy look for your home, choose greenery flecked with white for your banisters. You can also add white ornaments or white bows.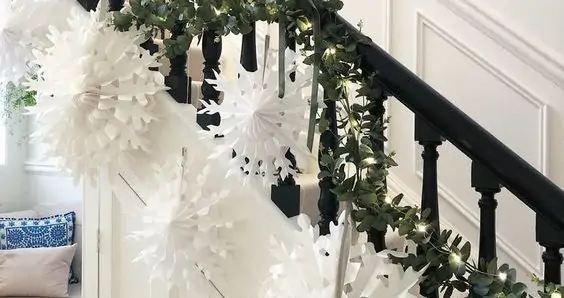 8. Stacked Presents
Wrap some boxes with Christmas wrapping paper and stack a couple at the end of each stair. Not only does this make for a nice decoration, but it also builds anticipation for unwrapping presents on Christmas morning.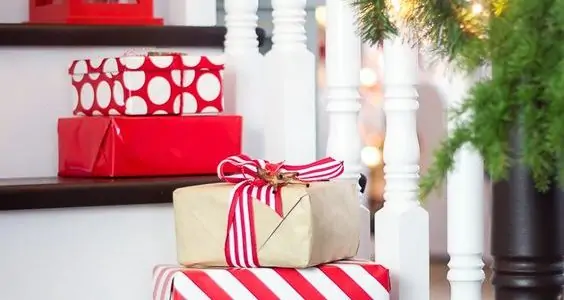 9. Knit Décor
Knitted scarves and stockings bring to mind a cozy winter atmosphere. To bring this to your stairs, simply tie knit scarves in a bow around the balusters or hang up knit stockings. White knitting is the most simple and elegant, but red and green knitting can work too, especially for stockings.


10. String Light décor
You don't have to limit yourself to traditional Christmas garland when decorating your staircase. To add some variety, string white lights from the railing.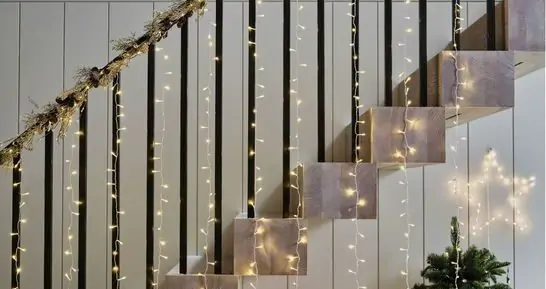 Now that you have some ideas for how to decorate your home, it's time to buy supplies and get decorating. Visit Woodchuck's Fine Furniture and Décor to shop holiday furniture and decor today. Our Jacksonville furniture store offers furniture and home décor for every season.